Tangxunhu Lake totem culture village
Source: hubei.gov.cn 09/14/2016 05:09:22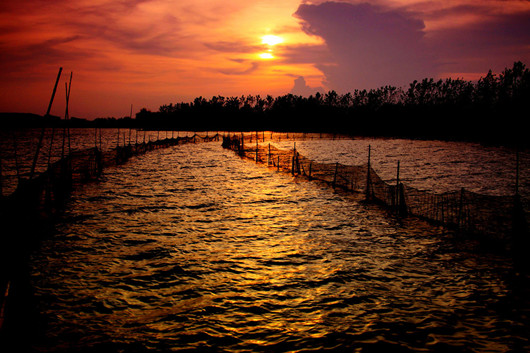 Tangxunhu Lake, called Tangsun Lake in the past, is located in Jiangxia District. It has a lake surface area of 47.6 square kilometers and a
461-square-kilometer drainage area. This lake is a glistening pearl in southern Wuhan. Its favorable ecological environment and beautiful scenery make it a great place to escape the noisy city life.
Visitors will not want to miss Tangxunhu Lake's totem culture village (汤逊湖图腾文化度假村), which is located in the Tangxunhu Lake area. It is the first totem culture village in China; it covers an area of 0.3 million square meters. The main scenic spots include a Dai Minority structure, White Tower (白塔), Temple of the Dragon King (龙王庙), Gallery of a Hundred Dragons (百龙长廊), Totem Square (图腾广场), Guanyin Island (观音岛), and Zigzag Bridge (九曲桥), which were constructed in accordance with the theory that man is an integral part of nature and that man should return to nature.
The totem pottery carving square in the Tangxunhu Lake area is the largest and most comprehensive square of its kind nationally; it offers an extensive cultural atmosphere.
The 68 individual totems are all made of clay; this is nationally the only collection of pottery carvings to feature the totems of China's 56 ethnic groups.
The dragon-themed gallery was constructed by archaeologists, artists, and folk artisans. According to unearthed materials related to dragon totems from the Neolithic Period to the Qing Dynasty, they painted and carved nearly 2,000 dragon totems representing the various ethnic groups of China at different historical periods. They also reconstructed the Temple of the Dragon King in accordance with the historical designs and other records from the Ming Dynasty.
In Wuhan Ethnic Culture Village (武汉民族文化村), you can barbecue beside your camp. The bonfire party at night is a memorable experience. The special activities in the village include archery and riding water bicycles imported from Canada. Visitors can bring their friends or family members to barbecue in the holiday village. There are also stores selling barbecue tools in the village.
The renowned Tangxunhu Lake fish ball street is nearby. Visitors can buy food materials there or bring them from home. This is one of the most special restaurant streets in Wuhan, for it is home to more than 40 restaurants selling fish balls. More than one million customers visit annually. Local dishes and farm-style dishes are recommended for fatigued visitors.
The title "largest urban lake" is no longer held by the East Lake. On May 28, the publicly-issued Chronicle of Wuhan's Lakes indicated that the East Lake, once recognized as "China's largest urban lake," is actually only the second largest. It has been overtaken by Tangxunhu Lake.
The total area of Tangxunhu Lake is 47.6 square kilometers, which is larger than the East Lake's total area of 33.9 square kilometers. With Wuhan's rapid urban expansion, many circumjacent areas around Tangxunhu Lake have become part of the central city. This issue of the Changjiang Weekly will introduce Tangxunhu Lake to our readers.
Transportation: Take bus No. 901 from Wuchang Railway Station to Zhifang (纸坊), or take bus No. 168 to Wuhan Ethnic Culture Village or Tangxunhu Lake's totem culture village.
Tickets: Adimission fee for Wuhan Ethnic Culture Village and Tangxunhu Lake's totem culture village is collected as follows: RMB 30 per adult, RMB 20 per student. Free for children below 1.1 meters and senior citizens over 70 years old.
SEARCH the SITE
Visiting Hubei