Yuexi·Peninsula Water Zone
Source: hubei.gov.cn 09/02/2016 10:09:41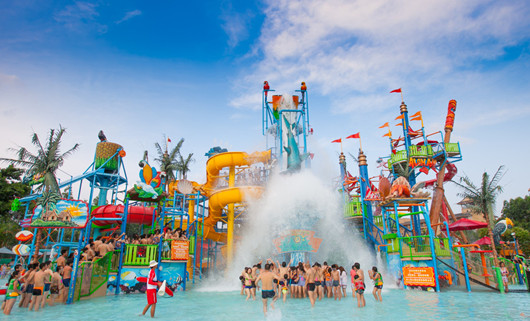 With the height of summer fast approaching, the Yuexi·Peninsula Hot Spring Resort is already becoming popular. Its water zone, which focuses on marine culture, is the first large-scale water park in Honghu, Hubei Province.
In addition to common water facilities, there are many exciting features. The most exciting is the 8,800-square-meter
"crazy tsunami area"where three-meter-high waves are made using vacuum wave-creation technology. There is also a super high slide; you climb to a height of 20 meters and then ride a four-person raft down into a whirlwind, where you will be spun with the strength of the wind and water.
From now until August 31, visitors can purchase a discounted family ticket package for RMB 598 (if the child is taller than 1.2 meter, another RMB 100 will be charged) by showing a copy of this issue's Changjiang Weekly. The ticket package covers: a one night stay in a luxurious single room or a standard room; breakfast buffet meal tickets for two adults and one child; water zone or hot spring tickets for two adults and one child; the fee for two hours on a tennis court (rental fee for tennis equipment not included); and, the fee for the outdoor hot spring swimming pool.
Address: Yuexi·Peninsula Hot Spring Resort in Wulin Town, Honghu, Hubei Province (湖北省洪湖市乌林镇悦兮半岛国际温泉度假村)
Transportation: Jiangcheng Avenue (江城大道)-Wuhan-Honghu Expressway (汉洪高速)-Yuexi·Peninsula Hot Spring Resort
SEARCH the SITE
Visiting Hubei