Water entertainment area in Tangchi Hot Springs
Source: hubei.gov.cn 08/31/2016 06:08:02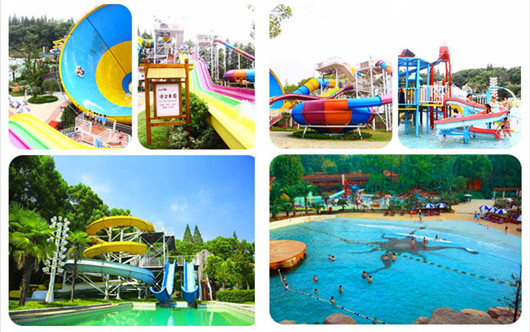 Tangchi's world-class hot springs water entertainment area (汤池温泉欢乐世界)is the largest of any hot springs scenic area in the country. Its recreational facilities offer the most complete hot springs water park experience, which include the Giant Horn, the Rainbow Slide and many others.
On the Giant Horn, four people can simultaneously experience the excitement of maneuvering through a Z-shaped slide in a raft at an altitude of 20 meters with the thrill of a sudden drop into the horn. The Rainbow Slide is 55 meters long and offers an unparalleled rush with its 20-meter vertical drop, three large 60-degree arcs, and a loss of control at high speeds.
Address: 121 Wenquan Road, Tangchi Town, Yingcheng, Hubei Province
Driving Route: Wuchang Xudong Avenue (徐东大街)-Wuhan Avenue (武汉大道)-Zhuyeshan (竹叶山)-Wuhan-Shiyan Expressway (汉十高速)-Wuhan Outer Loop (West) (武汉外环西)-Wuhan-Jingmen Expressway (武荆高速)-Yingcheng City (应城)
Ticket: From now until July 18, readers can show a copy of the Changjiang Weekly and receive a discounted ticket into the park for RMB 99 (original price is RMB 128). The original price for a two-person, two-day pass was RMB 398, but it has currently become available for the reduced prize of RMB 349.
SEARCH the SITE
Visiting Hubei