Water world at Youth and Children's Palace of Wuhan
Source: hubei.gov.cn 08/29/2016 05:08:31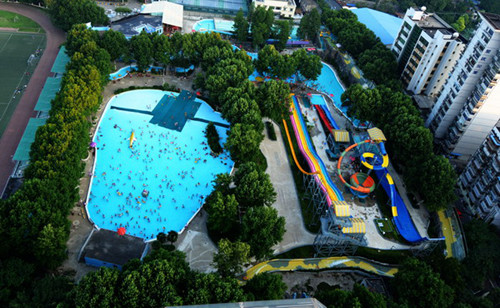 The water world available at the Youth and Children's Palace of Wuhan (YCPW)(青少年宫水上世界) is a large-scale recreational center which features water sports and activities. The water area of this palace is 8,000 square meters.
Tourists in YCPW can feast their eyes on the various water sliding activities, including common water sliding, sliding and revolving, and high-speed sliding. If you go to the common water sliding there, you will experience the rubber raft which starts on a 12-meter-high platform and slides down at a speed of 11 meters per second. The facility is open from Monday to Friday.
Address: 1435 Jiefang Avenue, Jiang'an District (江岸区解放大道1435号)
Transportation: Take Metro Line 2 to Xunlimen Station (循礼门).
Ticket: RMB 60 per person
SEARCH the SITE
Visiting Hubei