Nighttime activities at Wuhan scenic spots
Source: Changjiang Weekly 08/22/2016 09:08:50
This summer, many Wuhan scenic spots are promoting nighttime activities, offering various places to escape the summer heat. Visitors can enter these areas in the evening when the heat decreases and the mystery and thrill of night increases.
Families spend night at Wuhan Haichang Polar Ocean World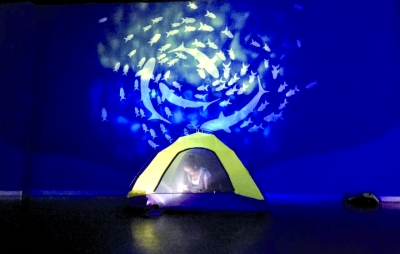 Visitor in a tent in the undersea tunnel at Wuhan Haichang Polar Ocean World
More than 20 children attended a recent overnight activity at Wuhan Haichang Polar Ocean World, spending the night with marine life.
"Do the fish close their eyes when they sleep?" "When penguins sleep do they stand or lie down?" During the nighttime activity, many children raised their hands to ask questions about the habits of polar animals. Instructors explained the living habits of marine life and the sleeping state of the rare animals, including polar bears, penguins, white whales, Arctic wolves, and Arctic foxes. Fish farming experts also gave an interesting science lecture on the colorful underwater world of fish to the parents and children in attendance.
According to park staff, the temperature in the undersea tunnel of the park is around 24 ℃, which is very cool for summertime. At night, illuminated by only a few lights, visitors can enjoy the fantastic sights of the underwater tunnel and dream about the amazing creatures they have seen.
Admissions reduced by 50 percent at nights at Wuhan Happy Valley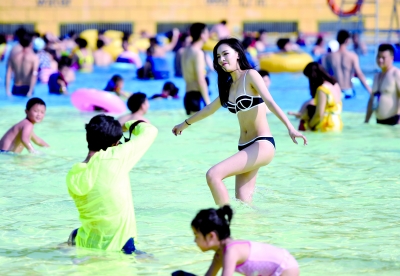 Participant of the 2016 International Miss Bikini (Photo by Guo Liangshuo)
Samba, Victoria's Secret shows, pole dances, and other activities, plus a glass of ice cold beer; this is the way patrons to Wuhan Happy Valley beat the summer heat.
Accompanied by wild samba drums, hot Brazilian girls unveiled the Hi-Beer carnival night at Wuhan Happy Valley. Performers dressed in colorful costumes danced to the beat of dynamic music. Onlookers couldn't help clapping their hands and dancing along.
Visitors said coming to Happy Valley in the evening helped them escape the sauna-like weather. They are also able to see lots of programs like magic shows, African style dance, and Russian jazz dance, which are not staged in the daytime.
The nighttime ticket price is much lower than in the daytime; the daytime price is RMB 200, while at nights it is only RMB 100.
SEARCH the SITE
Visiting Hubei