Optics Valley International Plaza
Source: hubei.gov.cn 07/27/2016 05:07:34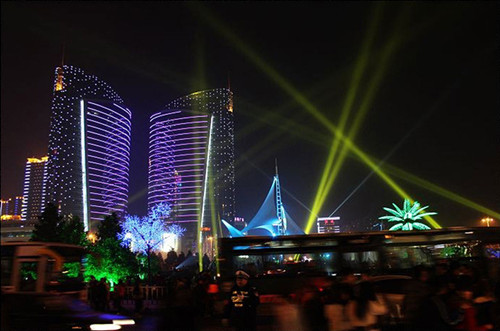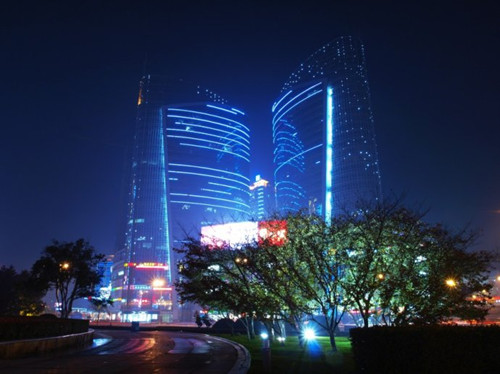 The operation area of the business part of Optics Valley International Plaza is 100,000 square meters, which is divided into Phase I and Phase II. Its office building is the sole AAAAA-level office building in Optics Valley, which covers an area of 71,000 square meters. A lot of big enterprises have entered in succession, such as Ping An Insurance, Wuhan Financial Supermarket, etc.
Phase I of the business part covers an area of 60,000 square meters and it was officially put into operation on January 29, 2010. It has the standard commercial space layout of a theatre and each floor is centering on the atrium, so as to naturally form an indoor commercial street, which is an urban shopping center of the young and fashionable city that integrates shopping, entertainment, food, leisure in central China. There is the largest shopping center and outdoor activity square in Wuhan, which covers an area of more than 10,000 square meters and owns more than 300 outdoor parking spaces and more than 300 indoor parking spaces at the second underground floor parking lots.
The Phase II started in the first half of 2012. It is designed for 28-48 years old white-collar office workers who have high-end fashion tastes and pursue brand and service of personality and honor. It also targets at "new gens" and focuses on satisfying the demands of economically independent young people who have a mature consumption concept.
Moreover, it also has a space for youth recreation to make a heaven of fashion, consumption and enjoyment and a special place dedicated to the new generation.
Address: No. 889, Luoyu Road, Hongshan District, Wuhan, Hubei, China Tel: 027-86659988
Shopping guide: