Ocean Wide City Square
Source: hubei.gov.cn 10/16/2015 09:10:37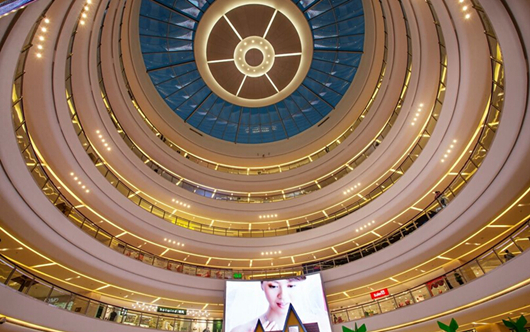 Top of the atrium in Ocean Wide City Square
Night view of Ocean Wide City Square
Ocean Wide City Square is located in the northern of Wuhan CBD, occupying 25 hectares of area with total structure area reaching 660,000 square meters.
In the first phase construction area of 300,000 square meters, it consists of top grade shopping mall with area of 120,000 square meters, elegant 5Alevel office building with 40,000 square meters and five star Sheraton Hotel with 70,000 square meters.
As the first international urban complex in Wuhan CBD, Ocean Wide City Square obtained USA LEED Silver certificate, and it will become a significant trade exchange platform that helps Wuhan towards international metropolitan.
(hubei.gov.cn by Mao Huifang)