New Civic Entertainment Center
Source: hubei.gov.cn 01/20/2015 05:01:40
Wuhan Civic Entertainment Center (WCEC), formerly known as Hankou Entertainment Center, is among the 3 major national-renowned amusement venues along with Tianjin Quanyechang Emporium and Shanghai Entertainment Center before the year 1949. Second only to the Shanghai Entertainment Center in terms of scale, it can hold 3,000 visitors at most, providing a wide range of entertainment programs including operas, ballads, acrobatics and various shows.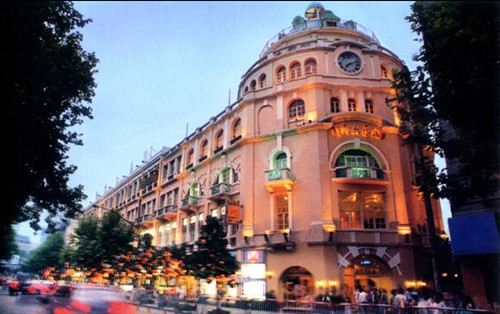 the night view of New Civic Entertainment Center
Erected in 1918, it bore the name of "Hankou New Market", which was later changed into "China National Club" in 1926 and "Xuehua Amusement Center" in 1927. Later, it also adopted names as "Hankou Civic Amusement Center", "Xingji New Market" and "Mingji New Market". It was called "Civic Entertainment Center" in 1949, "People's Culture Center" in 1966, restored its name as "Civic Entertainment Center" in 1979, and renamed as "New Civic Entertainment Center" in 1993. It was re-opened in 2014 after 10 months of renovation by CapitaMalls Asia.
Situated in the downtown Liuduqiao district near Zhongshan Avenue, WCEC was originally financed and established by Liu Youcai, a Hankou celebrity. The main parts of WCEC were completed and opened to the public in 1919, and the whole project was completed in 1920.
The main architectural complex consists of a 7-floor mansion with a vaulted roof accompanied by two 3-floor buildings at each wing, forming a vision of concave structure. Other buildings include the Yonghe Hall (for acrobatics performances), the Grand Stage, the New Stage as well as 20-odd residences in Xianle Ally and Xiexing Community. The whole compound occupies an area of 12,187 square meters, with a building floorage of 17,168 square meters. Modeled on Shanghai Entertainment Center, WCEC also provides various amenities, including 3 theaters, 2 dedicated halls for variety shows, Chinese and western restaurants, billiard parlors, department stores, reading rooms, showrooms, indoor gardens, Ha-ha pavilion (installed with distorting mirrors), skating rink, acrobatics halls, performance stages, etc. In 1946, the WCEC became the largest cultural and recreational venue in Wuhan that could stage various types of dramas with a seating capacity of 4,500, thus making it famous home and abroad. Since the founding of PRC, the central architecture has gone through repeated renovations.
In 1997, Somerset Holdings Ltd. (Singapore) renewed and expanded WCEC into a large plaza integrating recreation, shopping, entertainment and cuisine. The construction area now amounts to 40,000 square meters with an area of 23,000 square meters available for rent, rendering itself into the largest cultural and entertainment center in central China.
The new Wuhan Civic Entertainment Center, as the only cultural and entertainment plaza with a transparent ceiling in Wuhan, boasts its original style of contemporary layout and edgy interior arrangements, striking a perfect balance between traditional and modern design. It now holds over 150 stores big and small, and is home to the Studio City Cinema.
(hubei.gov.cn)