IICG Wuhan Shopping Centre
Source: hubei.gov.cn 11/06/2014 09:11:01
bird's eye view of IICG Wuhan Shopping Center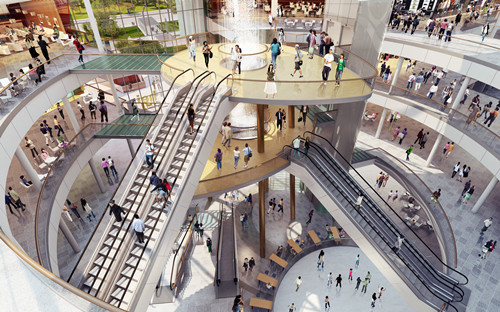 design sketch of IICG Wuhan Shopping Centre
night view of IICG Wuhan Shopping Centre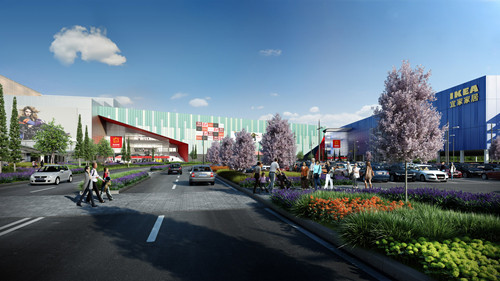 design sketch of IICG Wuhan Shopping Centre
Inter IKEA Centre Group's (IICG) 3rd shopping centre in China is now a reality. Together with the Wuhan government, IICG is creating more than a shopping centre in Wuhan - it is a city of life.
IICG Wuhan Shopping Centre, covering a total area of 300,000 square meters, is located at Etouwan, Qiaokou District. It is just 12 km from Wuhan city centre, with 8.6 million local residents in the area. It is aimed to be a one-stop super regional shopping centre with department store, hypermarket, international and domestic fashion retailers, substantial restaurants & cafes electronics, sports, cinema and other entertainment venues. Great convenience will be provided by a light railway station directly connected to the shopping centre.
Constructed as an enclosed three-storey integrated building, the centre is built to the highest international standards and will feature elements of Scandinavian design, including natural light and water, with special focus on sustainability and reduced environmental impact. It boasts an investment of about 300 million euros, with 172,000 square meters of gross leasable area (GLA), approximately 400 international and national brands and over 4,700 parking spaces.
IICG specializes in the development, operation and management of shopping centres in partnership with IKEA. IICG currently has 31 shopping centres in operation in 10 countries worldwide. IICG Wuhan Shopping Centre is IICG's third project in China, following IICG Beijing Shopping Centre and IICG Wuxi Shopping Centre.
The centre's main anchor, IKEA, opens on September 17, 2014, while the rest of the shopping centre is scheduled to open in 2015. Auchan, Suing Electronic Megastore and Jin Yi Cinema have already joined the tenant line-up.
Transportation:
Take bus NO.546, 560, 621, 736, 737, 741, 722 to Gongnong Road Apartment for the Aged Station.
Take light railway NO.1 to the Duoluokou Station or Zhuyehai Station.
(hubei.gov.cn by Mao Huifang)