HOME >> Attractions
Yujia Hill
Source: Changjiang Weekly 03/24/2016 01:03:01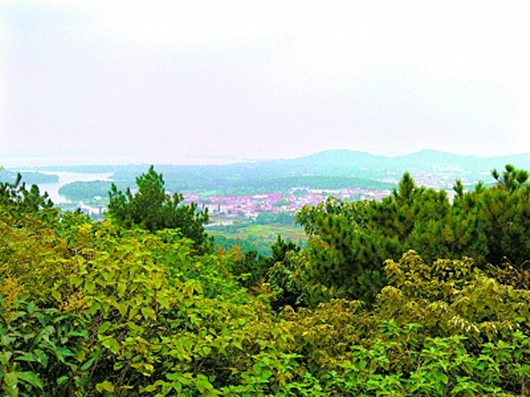 View of 80-square-kilometer East Lake
Yujia Hill (喻家山)is the sign and the pride of Huangzhong University of Science and Technology (HUST). The nickname for HUST is Yuyuan, which means Yu Garden.
The history of Yujia Hill dates back to the Paleozoic Era. More than 100 million years ago, Wuhan turned from land to ocean and vice versa many times; sea water eroded the earth's upper crust. In the Jurassic era, there was another major earth movement in the middle and lower reaches of the Yangtze River and a large part of the northern areas of China. During this period, mountain ranges appeared, including Yujia Hill. This one-hundred-meter high hill is much older than the world's tallest peak, Mount Everest, which was formed only 30 million years ago.
Stand on the top of Yujia Hill and look southward, and you will see several hundred acres of HUST campus; to the east and north, you will see the broad 80-square-kilometer East Lake and Luojia Hill of WHU; to the west and southwest is the Optics Valley
High-tech Zone; and close to the east is a state-level forestry park.
On Yujia Hill, there are several sightseeing spots, including the Yujia Thatched Cottage(瑜家草堂), Breeze Pavilion(熏风亭), No-singing and No-flying Pavilion(不鸣不飞亭), and Phoenix Tower(凤飞台), as well as various places of historic importance, like forts and bomb shelters.
In the morning, many people enjoy hiking around the hill and doing exercises or reading; towering pine trees and cedars provide an abundance of shade to the singing birds, which can be seen waving their wings every once in a while to the blue sky, clear water, and gentle breeze. The melodic chirping of a bird only makes it more serene. At dusk, Yujia Hill becomes a romantic wonderland.
Student canteens at HUST
Student canteens at HUST are said to be some of the best of all the Wuhan universities. On the eastern campus, there is Yunyuan Canteen(韵苑食堂). Yuyuan Canteen(喻园餐厅) is located at the base of the hill in the center of the campus. Baijingyuan Canteen(百景园餐厅) is on the westside of the campus.
If you plan to eat in any of the HUST canteens, you must purchase a temporary meal card which is available in each of the above mentioned canteens.