Foreigners give thumbs up to Hubei's development
Source: hubei.gov.cn 01/25/2018 02:01:01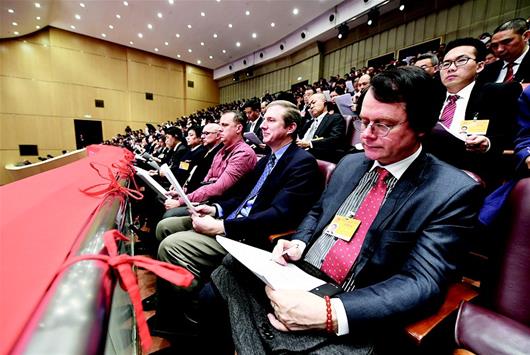 27 foreign guests from 12 countries highly praised Hubei's economic and social development after listening to the government work report. They were invited to attend the opening ceremony of the first Session of the 13th Hubei Provincial People's Congress on January 24, 2018.
Most of the foreigners invited are consular officials, senior managers of major foreign-invested enterprises in Hubei, business representatives from foreign embassies as well as foreign executives and experts working in Hubei.
It is the third time that Chung Jae Nam, consul general of Consulate General of the Republic of Korea in Wuhan has been invited to opening ceremony. He said that among ten targets of the work report, three impressed him most, which were to adhere to the opening policy in promoting reform, to promote Green Development and to enhance the cultural soft power. "The targets are focused and meet the requirements of the new era," he said.
Toshiyuki Koya, Chief Representative of Japan External Trade Organization Wuhan Office, is also invited for three consecutive years. He told reporters that there are currently over 200 Japanese enterprises in Hubei with 80 percent in automobile related industries as auto part and logistics. "The number of the Japanese companies will be increase to over 250 in the upcoming three years and the fields will be expanded to electronic commerce, game software and semiconductor, etc," he estimated.
Steven Carpenter, Chairman of Central China Executive Committee of the American Chamber of Commerce in China, has lived in Hubei for 14 years. He said that AmCham China and its Central China Chapter would introduce more high-tech talents to Hubei and invest more high-tech companies in the future.