Abstracts of speeches at the opening ceremony
Source: Hubei Daily 06/06/2016 04:06:31
【Guidance】:Forum on Global Production Capacity and Business Cooperation with the theme of Pragmatic Cooperation and Mutual Benefit opened on June 5, 2016 in Wuhan, capital city of central China's Hubei Province. We now offer our readers the abstracts of the speeches that guests delivered at the opening ceremony.
1. Xu Shaoshi, Director of the National Devel-opment and Reform Commission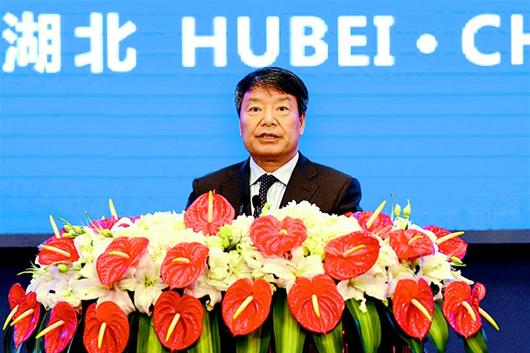 Xu Shaoshi, director of the National Devel-opment and Reform Commission said that Chi-na's propose of global production capacity co-operation will inject new energy into the global economy recovery, open new space for China's economy under the guideline of making progress while ensuring stability, as well as create new opportunities for companies world-wide. It is a pragmatic move to achieve win-win situation and mutual development. In recent years, China sticks to the principle of mutual benefit and has made solid progress in global production capacity cooperation. During the 13th Five-Year Plan period,China will adhere to the concept of mutual benefit to boost cooperation in production capacity and equipment manufactur-ing. The level of the cooperation will be promoted on the basis of market-oriented, with enterprises playing the leading role and in accordance with international practices and business principles.
2. Vladimir Zinovskiy, Minister of Economy of Belarus
Up till now, since the impact of international financial crisis has not been totally eliminated yet, according to Vladimir Zinovskiy, Minister of Economy of Belarus, there is an urgent need to open up a new prospect for developments by global production capacity and business co-operation. As the result of the establishment of Eurasia Union, Belarus is expecting to expand the market of its competitive industries to 180 million consumers. Belarus is also building the Sino-Belarus Industrial Park with China Mer-chants Group to offer a platform for global pro-duction capacity and business cooperation. The Industrial Park will be put into operation this fall, and investments from Chinese enterprises are welcome.
3. Li Hongzhong, Secretary of CPC Hubei Provincial Committee
Li Hongzhong, Secretary of CPC Hubei Provincial Committee said that One hundred years ago,Zhang Zhidong who introduced poli-cies to develop Hubei wrote a couplet which reads something like this,"When ancient saints made a difference,most chose the place of Han River;now the rail and traffic are welded,our stance to Eurasia is nearer."With the promising prospect of rejuvenation of Chinese nation,we should have our heart more open to the world and the future. Hubei sincerely welcomes friends from all over the world to jointly build a closer community of shared destiny with our sister provinces,promote common development,expand our common strategies interests so as to make greater contribution to realizing the China dream of national rejuvenation as well as the global dream of peace and development.
4. Wang Chao, Vice Minister of Foreign Affairs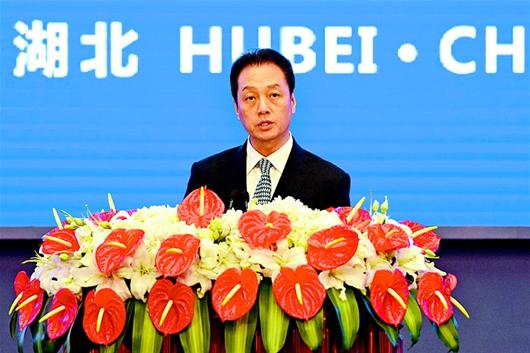 Wang Chao, Vice Minister of Foreign Affairs, believed that improving global production capacity cooperation under the new situation ought to consolidate cooperation with the Belt and Road Initiative by sharing strength, cultivate new growth point by integrating with innovation-driven development, deeply match up with other countries'development planning by finding out right cut-in point of cooperation and mobilize the positivity of market by docking enterprises.
【Postscript】:
Foreign guests from over 70 countries gathered to-gether in Wuhan on June 5, 2016 to attend the Forum. Global production capacity cooperation links China to the world.
During the past two years, global production capaci-ty cooperation yield fruits as series of key projects got started. Silk Road Fund was established, Asian Infras-tructure Investment Bank started operation with careful preparation, Vision and proposed actions outlined on jointly building Silk Road Economic Belt and 21st-Cen-tury Maritime Silk Road was issued and a group of in-frastructure projects moved forward steadily.
Chinese enterprises play an important role in the new initiatives of regional cooperation from China-Pakistan Economic Corridor, Bangladesh-China-India-Myanmar (BCIM) Economic Corridor to China-Russia-Mongolia Economic Corridor. Six provinces of Central China will be built into new focus of opening-up and make con-tributions to global production capacity cooperation.
SEARCH the SITE
Visiting Hubei