Hubei on opening-up frontier for mutual benefit
Source: Hubei Daily 06/06/2016 03:06:26
Photo shows trains fully loaded with containers are bound for Lodz, Poland on April 23, 2014, when the Wuhan-Xinjiang-Europe freight route starts normalizing operation. (Photo by Ni Na)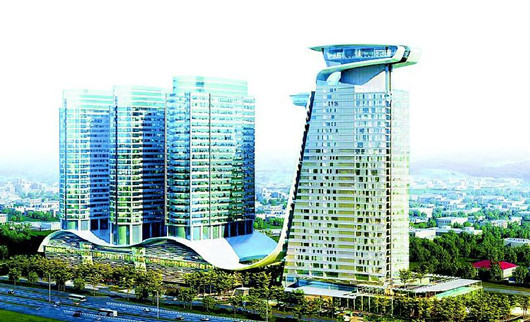 The Centaurus Hotel in Islamabad is built by China Construc-tion Third Engi-neering Bureau Co.,Ltd.(file photo)
A new round of global industrial restructure is in trend and China speeds up overall strategy of global production capacity cooperation.
Forum on Global Production Ca-pacity and Business Cooperation opens today in Wuhan, capital city of central China's Hubei Province with the support from National De-velopment and Reform Commission and Ministry of Foreign Affairs.
This is a significant foreign-re-lated activity which Hubei has pursued a proactive approach, car-ried out effective planning and made decisive implementation. It is also the only project jointly orga-nized between Ministry of Foreign Affairs and a Province in the Min-istry's 2016 Global Production Ca-pacity Cooperation Work High-lights. Hubei now stands at opening-up frontier embracing the world.
In recent years, Hubei has strived to seize the strategic opportunity of the Belt and Road Initia-tive and help companies go global.The Province has laid a solid foundation for global production capacity cooperation.
"Hubei has organized several delegations'visits to key countries in Central A-sia, the Middle East, Central and Eastern Eu-rope, Oceania since the implementation of the Belt and Road Initiative and Global Production Capacity Cooperation strategy,"said Yan Puliu, director of Foreign Affairs Office of Hubei Provincial People's Government.
"Key cooperation projects have get started and a favorable situation of practical cooperation and shared development opportunities have formed between Hubei and re-lated countries,"Yan added.
Hubei also created the cooperation mechanism between upper and middle reaches of Yangtze River and the Federal District along the Volga River Bank in Russia, new highlights of promot-ing the construction of the Belt and Road Initia-tive and enhancing regional cooperation.
In May 2013, Local Leader Symposium of the Upper and Middle Reaches of the Yangtze River and the Federal District along the Volga River Bank in Russia, or East Lake Conference, was held in Wuhan, triggering the cooperation plat-form. In October that year, the platform was con-firmed in Joint Communiqué of the Eighteenth Regular Meeting between the Chinese and Rus-sian Prime Ministers and upgraded to national strategy.
Freight goes smoothly with convenient trans-portation while mutual benefit brings win-win situation. Wuhan-Europe rail route started trial run in October 2012 from Wuhan Wujiashan Container Center via Alataw Pass in Xinjiang to European countries with a total length of 10,500 kilometers. The rail trip is about two months quicker than the maritime alternative, and costs a fifth as much as air freight. The freight train carries electronic prod-ucts, electric vehicles,glass and fruit to Europe.