HOME >> Engineering Contracting
WISDRI builds projects in Malaysia and Russia
Source: hubei.gov.cn 06/03/2016 05:06:19
Brief introduction to WISDRI:
WISDRI Engineering & Research Incorporation Limited (hereinafter referred to as WISDRI, formerly Wuhan Iron & Steel Design and Research General Incorporation of Ministry of Metallurgical Industry) is a hi-tech company with its share controlled by Metallurgical Corporation of China Ltd. and its registered capital of 3 billion RMB. Its main business covers consulting, engineering and EPC contracting of projects in iron and steel, energy, environment protection, municipal infrastructure and architecture field, manufacturing of mechanical and electrical products, as well as investment, construction, operation, and etc. of clean energy, energy conservation, environment protection and industrial gas facilities, etc.
It has been granted with more than 460 awards at state, ministry and provincial level, including the awards granted for "Excellent Engineering Design", "Technological Invention" and "Scientific and Technological Progress". It has completed dozens of national key research subjects and possessed over hundreds of proprietary technologies and patents. It has set or participated in setting 72 standards of state, industry and local level. It always ranks within top 10 in the top 100 Survey and Design Enterprises in terms of comprehensive strength and business revenues.
Project 1: Hot Commissioning of Slab Continuous Casting Project in Malaysia
December 31st, 2014 witnessed the successful hot commissioning of 230×1600mm slab casting machine in Eastern Steel of Malaysia, a turn-key project contracted by CCTEC, a CCM technology subsidiary of WISDRI. Initially, 3 heats were cast and 4 more heats were cast in the night in sequential casting. The successful commissioning of the CCM, the quality and the professional ethics of the project team are highly praised by the Customer.
It is the first slab CCM in the southeastern Asia region. To CCTEC, it is the first straight mold bow-type slab CCM supplied in the overseas market. The CCM as supplied is furnished with mold breakout prediction, eddy-current mold level measuring device, stopper rod automation control, mold hydraulic oscillation, air-mist cooling of slabs, dynamic control of secondary cooling water, etc. which represent the technological accomplishments of CCTEC in slab CCM field.
Project 2: MMK's Cold Rolling Project in Russia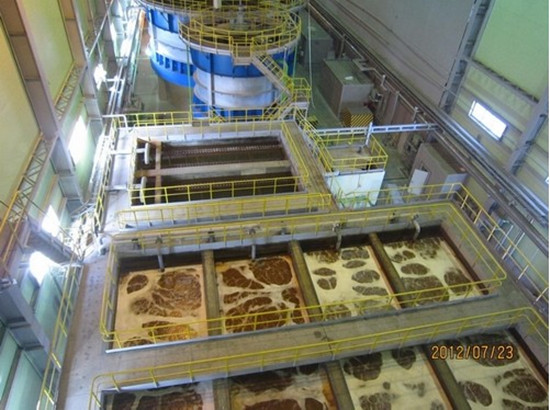 On July 13 to 16, 2012, the startup ceremony of MMK's 2000 mm wide plate cold rolling project (stage 2) in Russian in which WISDRI participated was held in MMK, Russia's President Mr. Vladimir Putin presented the ceremony and visited the cold rolling mill site again.
With total investment of 1.5 billion RMB approximately and annual output of 2.10 mt, the project mainly functions for producing high quality cold rolled automobile sheets; the stage 1 project was put into operation in July 2011, the stage 2 project started up on July 13 to 16, 2012 includes one hot dip galvanizing line, one coupled hot dip galvanizing and continuous annealing line, skin pass mill line, packing line and the auxiliary facilities. WISDRI as an important participant of this project undertakes mainly the design, programming, equipment and material supply, erection and commissioning supervision of water treatment system, power supply & distribution system, air compressor station and centralized oil supply station. This project is typical project of Russia in iron and steel industry, its startup strengthens MMK's competition on the market of high quality cold rolled products.
SEARCH the SITE
Visiting Hubei