XIAO Ruoteng: We were very motivated by the great passion from the home crowd
Source: hubei.gov.cn 10/30/2019 17:10:24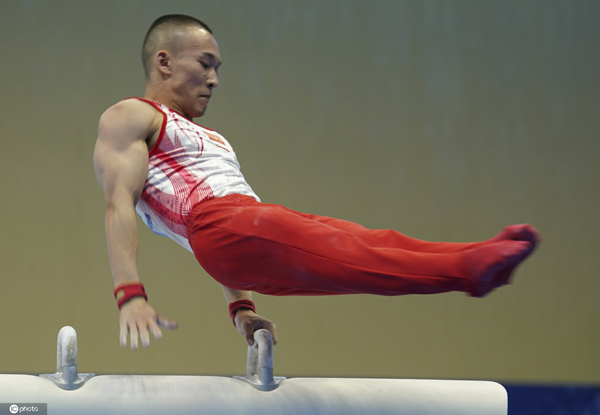 Xiao Ruoteng from China competes at the Military World Games in Wuhan, Central China's Hubei province, Oct 21, 2019. [Photo/IC]
Men's gymnastics has more than lived up to its billing as a showcase of talent and artistry in its debut as a demonstration event at the 7th CISM Military World Games.
On the heels of Monday's all-around final, Wednesday's artistic gymnastics team final attracted more than 3,500 spectators at Hubei Olympics Center Gymnasium.
China's Bayi squad, spearheaded by world champion Xiao Ruoteng, won the gold medal with 260.294 points.
The raucous spectators, including throngs of People's Liberation Army soldiers and flag-waving toddlers held aloft by their parents, kept the decibel levels cranked up.
"The atmosphere was a great encouragement for us, especially since we were pretty tired, given the tight schedule," said Xiao who came directly to Wuhan after competing in the World Artistic Gymnastics Championships in Stuttgart, Germany, earlier this month.
"We were very motivated by the great passion from the home crowd, but it was really tiring and my body doesn't feel too well. We wanted to repay all the passionate fans here."
A total of 27 athletes from six countries-including four medalists from the 2016 Rio Olympics-competed.
"It was very high quality; I felt that it was as competitive as the major regional tournaments, such as the Asian Artistic Gymnastics Championships," Xiao said after winning gold in Monday's all-around final. "I will try my best to win more gold medals in the remaining events."