Cycling
Source: 7th CISM Military World Games 10/14/2019 17:10:33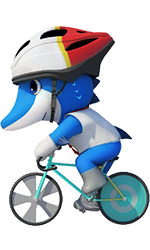 Cycling events will be organized in accordance with the latest regulations of the Union Cycliste Internationale (UCI) and CISM Cycling regulations.
Totally there are 6 disciplines, including: men's individual time trial, men's individual road race, men's team road race, women's individual time trial, women's individual road race and women's team road race.
-Time Trial (2):
TT Individual Men: ± 40km
TT Individual Women: ± 20km
-Road Race (4):
RR Individual /Team Men: ±120km
RR Individual /Team Women: ±80km
No separate race is held for team result classification; instead, it is calculated from the sum of the first 4 best results of men team and the first 2 best results for women during the RR individual/Team Men and Women. Team results for the men team of less than 4 athletes are calculated through the accumulation of actual results of the participants.
Competition Venue
East Lake Greenway Marathon and Road Cycling Venues