2019 COCPDC opens in Wuhan
Source: hubei.gov.cn 11/21/2019 17:11:32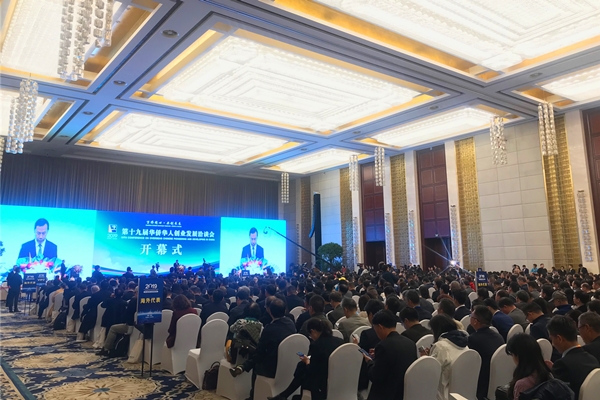 Representatives of overseas Chinese
The 2019 Conference on Overseas Chinese Pioneering and Developing in China (COCPDC) was opened today in Wuhan, capital of Hubei Province.
The three-day event has attracted more than 1,000 overseas Chinese from 61 countries and regions and collected 1,424 cooperation and startup projects.
Among the 1,424 projects, 166 ones have achieved agreements, including 65 projects worth over 100 million yuan and 18 projects worth over 1 billion yuan.
30 major projects, relating to recruiting talents of biomedicine, equipment manufacturing, materials and energy, as well as investment and trade involving production and R & D of chips, eco-agriculture, bulk drug substances and high-tech products, signed at the conference. They will land in the cities and prefecture in the province.
This year's COCPDC is jointly organized by the People's Government of Hubei Province, the Overseas Chinese Affairs Office of the State Council, and the People's Government of Wuhan Municipality. Many representatives of great influence in political, business, and academic circles from home and abroad were invited to attend, such as academician of the Chinese Academy of Engineering Deng Zhonghan and CEO of the Fok Ying Tung Group Ian Fok Chun-wan.
Since 2001, the main venue of the conference has witnessed the signing of more than 2,300 projects worth over 390 billion yuan (55.6 billion U.S. dollars). (hubei.gov.cn by Ruan Xinqi)