Hubei enterprises bag 51 major projects at 2nd CIIE
Source: hubei.gov.cn 11/07/2019 17:11:40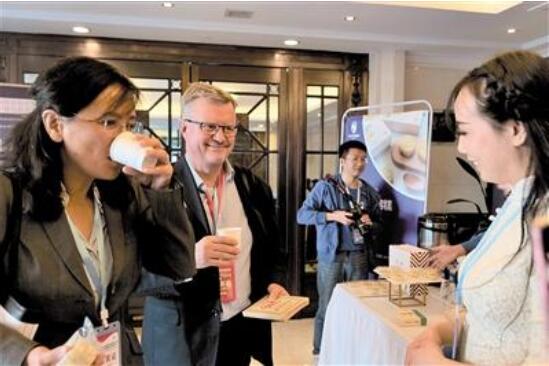 Foreign guests are tasting Yangloudong Tea
On November 6, Hubei enterprises brought in 51 major projects after two business matching programs at the ongoing second China International Import Expo (CIIE) in Shanghai.
At the Promotion of China (Hubei) Pilot Free Trade Zone and Procurement Agreement with Hubei Enterprises, 30 major projects were inked, attempting to purchase automotive parts, high-end manufacturing equipment, smart gadget, food, daily necessities and other products from Malaysian, Pakistani, European, Japanese, South Korean, and American companies.
The deal between Jointown Pharmaceutical Group and America's Johnson & Johnson is of the highest worth among the 30 projects. The two companies are expected to expanded their cooperation based on last year's 4-billion-yuan contract.
At another specific session, companies from Hubei, Zhejiang, Hunan and Shandong provinces signed 25 major projects with five Nordic countries. The 21 claimed by Hubei companies mainly relates to pulp procurement, logistics lines and cross-border e-commerce warehousing, health products and food trade, as well as men's skin care products. (hubei.gov.cn by Ruan Xinqi)