Hubei receives over 63 million visits during 2019 National Day holiday
Source: hubei.gov.cn 10/08/2019 17:10:35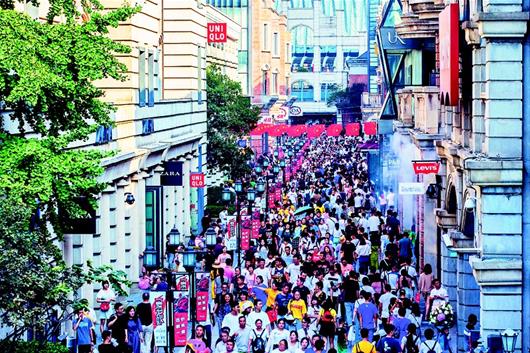 The Han Street is crowded during the National Day holiday.(photo: Hubei Daily/Mei Tao)
During the just-ended National Day holiday (October 1-7), Hubei received 63.1931 visitors and attracted tourist income of 48.199 billion yuan, a year-on-year increase of 10.4 percent and 11.25 percent, respectively.
The 25 key scenic areas under supervision totally received 5.232 million people and realized a tourism income of 869 million yuan.
Wuhan, capital of Hubei Province, received 22.6224 million visitors, totaling 12.599 billion yuan in tourism income, up 10.89 percent and 15.43 percent, respectively.
The year of 2019 marks the first year of integrating culture with tourism in Hubei. A series of cultural and tourist products were launched during the holiday. The Fantawild theme park in Jingzhou, which combined the Chinese culture with advanced technology, received 161,100 visitors during the seven-day holiday, while the Huangshi National Mine Park welcomed 35,000 tourists.
The urban night trip was also very popular this year. In Wuhan, the light show along the Yangtze River attracted a host of tourists, and even contributed to the prosperity of nearby shopping centers. From October 1 to 3, the banks of the Yangtze River in Hankow, Wuchang and Hanyang received an average of 500,000 people per day, according to official statistics.
During the week-long holiday, rural tourism activities were organized across the province, creating a warm festive atmosphere and attracting many tourists.(hubei.gov.cn by Zhang Yawei)

Related: Wuhan receives over 20 million visits during National Day holiday 2019