Exchange and cooperation between Hubei and Germany at a glance
Source: hubei.gov.cn 09/09/2019 16:09:56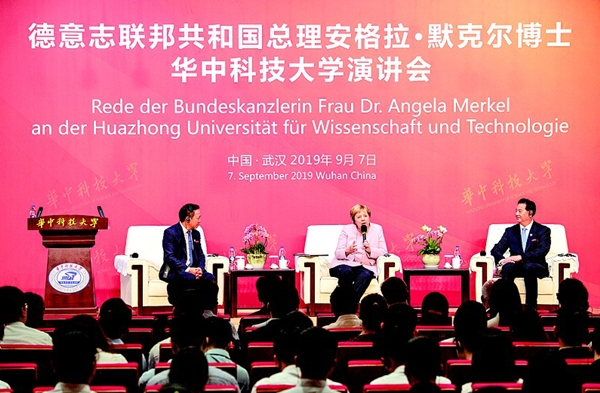 German Chancellor Angela Merkel deliver a speech at the Huazhong University of Science and Technology, on September 7, during her visit to Wuhan.
On September 7, German Chancellor Angela Merkel visited Wuhan, capital city of central China's Hubei Province, aiming to further promote the exchange and cooperation between Hubei and Germany.
In fact, Hubei and Germany have deep historical ties. The Tongji Medical College, one of the top universities in Hubei, is formerly known as Deutsche Medizinschule für Chinesen in Shanghai which was founded in 1907 by a German doctor. As early as 1982, Wuhan and Duisburg became the first pair of sister cities between China and Germany.
Over the years, Hubei and Germany have been continuously deepening cooperation in economy, trade, science and technology, medical care, cultural tourism, environmental protection and education, which has played a positive role in serving the country's diplomatic relations with Germany and enhancing the opening up and high-quality development of Hubei.
Let's take a glance at the ties between Hubei and Germany.
Friendly exchange
Hubei and Germany boast six pairs of sisiter cities, including two pairs at provincial level. They are: Hubei and Saxony, Hubei and Saarland, Wuhan and Duisburg, Yichang and Lutwigsburg, Huangshi and Rotwell, Qianjiang and Heidenheim.
Since 2007 when the province and Saxony established sisiter-province/state relationship, the two sides have conducted frequent high-level visits, intensive economic and trade cooperation, and active exchanges in scientific research, culture, environmental protection, education and other fields.
Economy and trade
By the end of 2018, Germany had laid out 158 projects in the province, with contractual foreign investment of 500 million U.S. dollars and actual use of foreign capital of 400 million U.S. dollars. The business is mainly engaged in automobile research and development, baby products and so on.
Meanwhile, Hubei has set up 21 enterprises in Germany, with contracted investment of 160 million U.S. dollars in the fields of special equipment manufacturing, auto parts production, and information technology.
Medical cooperation
The Tongji Hospital, which is affiliated to Tongji Medical College of Huazhong University of Science and Technology, is the president unit of Sino-German Medical Association. For more than 30 years, Tongji Hospital has played an important role in the Sino-German medical exchange and cooperation, taking the Sino-German Medical Association as a platform.
The cooperation between the Union Hospital, which is also affiliated to Tongji Medical College of Huazhong University of Science and Technology, and the University of Duisburg in Germany has lasted for 30 years. They have long-term cooperation in medical, teaching, scientific research and personnel training. As of 2018, a total of 58 technicians have been selected to receive training and carry out research in German medical institutions. (hubei.gov.cn by Ruan Xinqi)