Infographic: Hubei's opening-up development over past seven decades
Source: hubei.gov.cn 08/15/2019 17:08:56
On August 13, a press conference was organized by the Hubei Provincial Party Committee Propaganda Department to brief the media on the remarkable opening-up achievements made in the province during the past seven decades.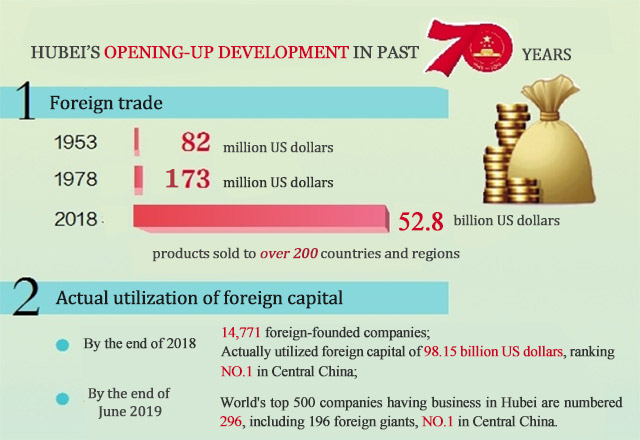 Foreign trade
Hubei's total import-export volume stood at 82 million U.S. dollars in 1953, and then climbed to 173 million U.S. dollars in 1978. As of 2018, it jumped to 52.8 billion U.S. dollars.
" A more than 600-fold increase over the past 70 years," said Chen Huarong, adding that Hubei is now home to over 20,000 enterprises with import and export qualification. Their products are sold to over 200 countries and regions around the world.
Actual utilization of foreign capital
Hubei witnessed swelling utilization of foreign capital, from hundreds of thousands of US dollars per year in early 1980s, to an annual average of 1 billion U.S. dollars in the 1990s, and then to 11.9 billion U.S. dollars in 2018.
"Until the end of 2018, Hubei actually utilized foreign capital of 98.15 billion U.S. dollars, ranking the first in China's central region, " introduced Chen Huarong, deputy director of the Department of Commerce of Hubei Province, at the press conference.
World's top 500 companies in Hubei
In the past 70 years, Hubei has become a hot land for foreign investment with improving business environment. In 1987, Siemens, a famous Germany company, set up its telex service center in Hubei, becoming the first world's top 500 company in the province. Now, there are average ten world's top 500 companies settling down in Hubei every year.
As of the end of June this year, the world's top 500 companies having business in Hubei are numbered 296, including 196 foreign giants, the most in China's central region.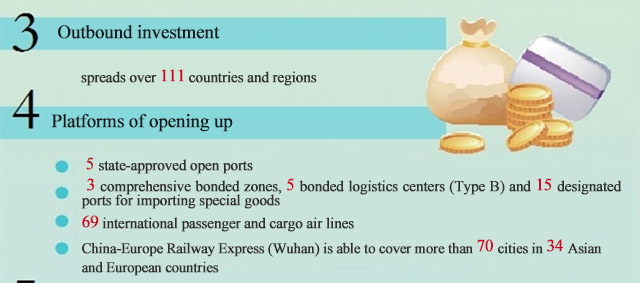 Outbound investment
"The turnover of Hubei's foreign contracted projects reigned at the top of China's central region and forefront of the country," Chen noted.
As early as 1978, Hubei engineering team had been dispatched to Ghana for the construction of a water irrigation project. In 2018, the turnover of foreign contracted projects reached 6.44 billion U.S.dollars.
In 1984, Hubei invested 1 million U.S.dollars to set up a joint venture in Rwanda, and by now, Hubei has owned 856 non-financial transnational companies with contracted investment of 16.94 billion U.S. dollars in foreign countries.
So far, the outbound investment of Hubei has spread over 111 countries and regions.
Platforms of opening up
Both the "going global" of Hubei-made products and "bringing in" of foreign investment benefit from the opening-up platforms in the province. At present, Hubei has established 5 state-approved open ports, 3 comprehensive bonded zones, 5 bonded logistics centers (Type B) and 15 designated ports for importing special goods; 69 international passenger and cargo air lines connect four continents; shipping lines links Yangluo Port to Japan, South Korea and Vietnam; and the China-Europe Railway Express (Wuhan) is able to cover more than 70 cities in 34 Asian and European countries.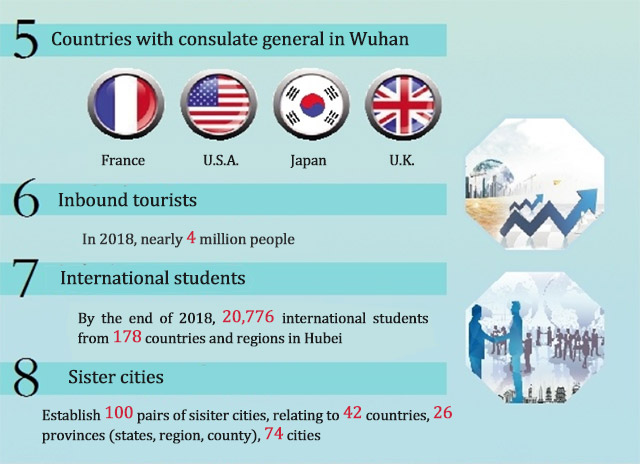 The foreign consulate generals in Wuhan
In 1998, the French Consulate General in Wuhan was established. In the following 20 years, the United States, South Korea, and the U.K. successively opened consulates in Wuhan. In addition, Russia has approved the establishment of a consulate here.
Up to now, there are 22 official and semi-official institutions founded by foreign countries and regions in the province, including the Hong Kong SAR Government's Economic and Trade Officeand the Macao Trade Development Bureau's representative office in Wuhan.
Foreigners in Hubei
The fast-growing Hubei are attracting more and more foreigners to travel, study, and do business. In 2018, the number of inbound tourists was close to 4 million. As of the end of 2018, there were 20,776 international students from 178 countries and regions, ranking the eighth in the country.
(hubei.gov.cn by Ruan Xinqi)