Hubei, embracing the world
Source: hubei.gov.cn 07/29/2019 17:07:59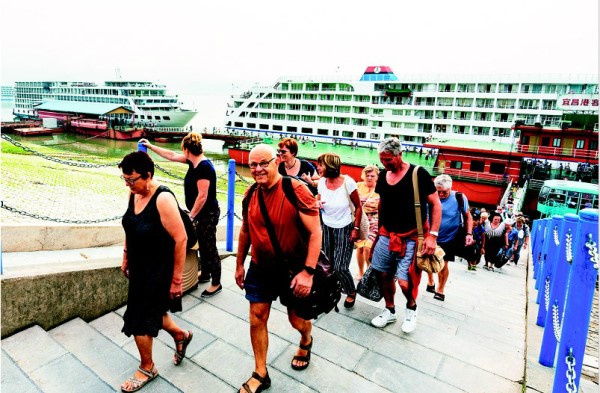 A tour group from the United States disembarked from the tourist port in Zigui County, central China's Hubei Province, on July 17, 2019. Zigui County received more than 115,000 overseas tourists in 2018, and received nearly 48,000 foreign tourists in the first half of this year.
Hubei is blessed with profound cultural heritage and breathtaking scenery, as a cradle of Chu culture. In recent years, Hubei has promoted the deep integration of culture and tourism, through the construction of 33 tourism demonstration zones and the core zone of the Yangtze River International Golden Tourism Belt.
With the development of the Yangtze River Economic Belt and the Belt and Road Initiative, Hubei's inbound tourism market has maintained steady growth. In 2018, the number of inbound tourists (including Hong Kong, Macao and Taiwan) reached more than 4.05 million, and foreign exchange earnings from tourism amounted to nearly 2.38 billion U.S. dollars.
(hubei.gov.cn by Zhang Yawei)