Direct flights linking Wuhan with New York to debut today
Source: hubei.gov.cn 07/10/2019 17:07:11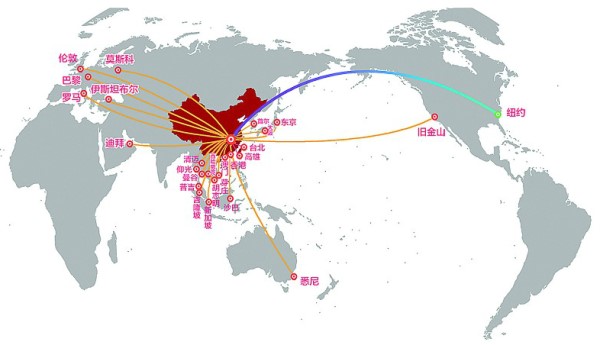 China Southern Airlines is set to make a maiden trip of Wuhan-New York direct flights on July 10, 2019, according to the Wuhan Tianhe International Airport.
The maiden flight, run by a Boeing 787-9, will take off at 8:30 p.m. from Wuhan Tianhe International Airport in Wuhan, capital of Hubei Province.
The flight is to be operated three times a week. The outbound flight leaves Wuhan every Wednesday, Friday and Sunday, and the return flight departs from New York every Monday, Thursday and Saturday.
By then, China Southern Airlines will embrace 15 direct flights in Wuhan, including Moscow, San Francisco, Rome, Dubai, London, Istanbul, New York, Tokyo, Osaka, Seoul, Bangkok, Ho Chi Minh, Hong Kong, Taipei, and Kaohsiung.
These direct flights are expected to make Wuhan form a four-hour air traffic circle that includes major cities both in China and Southeast Asia, and a 12-hour air traffic circle with major metropolises and destinations around the world.
(hubei.gov.cn by Zhang Yawei)