Sky train to undergo tests in Wuhan
Source: hubei.gov.cn 06/18/2019 17:06:13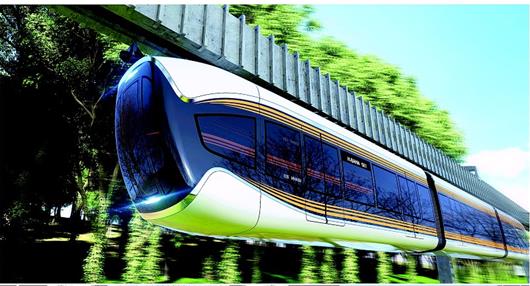 The sky train
The "elevated railway" system will be put into test operation in 2019, in Wuhan, capital of central China's Hubei Province, rolled out by China Railway Science & Industry Group (CRSIC), local media reported on June 18.
An elevated railway, also known as overhead railway or sky train, is a rapid transit railway with tracks above street level.
Each of the train carriages is 11 x 2.4 meters, which can hold up to 80-90 passengers. And the train will run with a maximum speed of 70 kph. When compared with subways and trams, sky trains have lower costs, better climbing and turning ability, and higher wind resistance, according to Wang Yinglin, director of New Railway Research Institute of CRSIC.
China's first sky train came off the assembly line in Nanjing, capital of eastern China's Jiangsu Province, on September 10, 2016, making it third country after Germany and Japan to develop the technology.
(hubei.gov.cn by Zhang Yawei)