2019 Wuhan East Lake Cherry Blossom Festival opens
Source: hubei.gov.cn 03/14/2019 04:03:37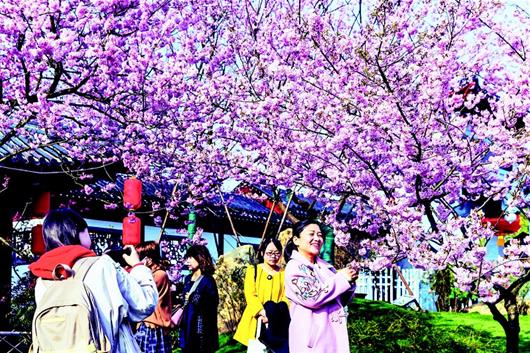 (photo source:Hubei Daily)
The 2019 Wuhan East Lake Cherry Blossom Festival was unveiled in Wuhan, capital of central China's Hubei Province, on March 13.
The Wuhan East Lake Cherry Blossom Garden, the Hirosaki Cherry Blossom Garden in Japan as well as the Washington Cherry Blossom Garden in the United States, are called "Three Capitals of Cherry Blossom in the World".
This year, the number of visitors is expected to increase by 10%-15%, witnessing the passenger flow on peak day will reach 92,000. And six relevant transportation measures have been launched by the Wuhan East Lake Eco-tourism Scenic Area Management Committee.
Let's have a look at six transportation measures.
1.Buses
From Wuchang and Hanyang: take the Bus No.413 and No.401;
From Hankow: take the Bus No.402.
2. Scenic shuttles
Visitors can take scenic shuttles to the garden for free, after purchasing the garden tickets.
Scenic shuttles from the Tingtao Scenic Area, the Yellow Crane Tower Scenic Area and Exit C of the Huazhong University of Science and Technology Station along Metro Line 2 will be opened.
3. Electric sightseeing cars
The Wuhan East Lake Greenway will embrace four interchange stations of electric sightseeing cars, namely, "湖光序曲", "白马","落霞归雁" and "风光村一棵树", which can provide direct access to the garden.
4. East Lake sightseeing boats
The water transportation will be opened from the Luoxia Shuixie Wharf at Tingtao Scenic Area to the Plum Blossom Garden Wharf at Mo Hill Scenic Area, with four clean energy boats taking 10-16 round trips a day.
5. Bicycles
Visitors can rent bicycles to the garden at seven bicycle stations of East Lake Greenway, from 9:00 a.m. to 5:00 p.m.
6. Self-driving tour
There are more than 1,500 parking spaces in the garden, and a number of temporary parking spaces will be set up. Quick services such as code-scanning entry and online payment will be available.
(hubei.gov.cn by Zhang Yawei)