International sport events in Wuhan 2019
Source: hubei.gov.cn 03/13/2019 03:03:05
In 2019, Wuhan will host nearly 20 international sport events, including the 7th Military World Games in October and FIBA Basketball World Cup in August.
Let's have a look at them beforehand.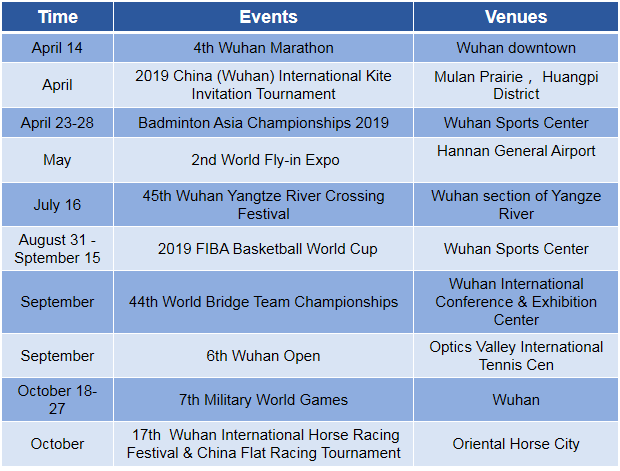 April
(1) 4th Wuhan Marathon
The 4th Wuhan Marathon is scheduled on April 14, 2019. Official statistics show that online registration amounted to 155,093, an increase of 11.3 percent year on year. Finally, 2,4000 out of the applicants will be selected.
(2) 2019 China (Wuhan) International Kite Invitation Tournament
The 2019 China (Wuhan) International Kite Invitation Tournament is about to be held in April on the Mulan Prairie, Huangpi District of Wuhan. As the largest air event in China, it has been organized for many years. In 2018, 47 teams from 22 countries and regions participated in the event.
(3) Badminton Asia Championships 2019
The Badminton Asia Championships will be held in Wuhan from April 23-28, 2019. All of the top players from across Asia are expected to take part in this tournament. Wuhan, the capital city of Hubei province, has hosted the Asian Badminton Championships for three consecutive years from 2015-2018, and will be home to Badminton Asia's flagship tournament until 2020.
May
2019 World Fly-in Expo
As the first edition, the 2017 World Fly-in Expo took place in Wuhan Economic and Technological Development Zone (Hannan), Central China's Hubei province on Nov 4-7, having drawn more than 1,000 participants, including pilots, athletes, coaches and judges, from 37 countries and regions, as well as 300,000 attendees. The 2nd World Fly-in Expo will be organized in May this year.

July
45th International Yangtze River Crossing Festival
In 2018, the festival attracted 47 teams from China mainland provinces and cities, Hong Kong, Macao, Taiwan and foreign countries. Each team consisted of 100 people and the total number of 47 teams amounted to about 4,700.
The International Yangtze River Crossing Festival has become a name card of Wuhan. The Swimming Management Center of General Administration of Sport of China announced in 2015 that the main venue of "716 National Swimming Week" settles in Wuhan permanently.

September
(1) 2019 FIBA Basketball World Cup
The 2019 FIBA Basketball World Cup will be the 18th tournament of the FIBA Basketball World Cup for men's national basketball teams. The tournament will be hosted in such eight cities in China as Beijing, Shanghai, Guangzhou, Nanjing, Foshan, Wuhan, Dongguan and Shenzhen. As one of host cities, Wuhan will be in charge of 12 games in group state and play-offs. It marks the basketball game enjoying highest standards, greatest honor and highest level in Wuhan so far.
(2) Wuhan Open
The Wuhan Open (currently sponsored by Dongfeng Motor) is a tennis tournament held in Wuhan, Hubei Province, China and organized for female professional tennis players. It is one of the Premier 5 tournaments on the WTA Tour and made its debut in the 2014 season. All the Top 10 players of the WTA rankings were attracted to compete at the 2018 Wuhan Open.
(3) 44th World Bridge Team Championships
The World Bridge Teams Championships, the oldest WBF Championship, grew out of private initiatives principally by the late Norman Bach. The first world championship for the Bermuda Bowl was held in 1950, in Bermuda, eight years before the World Bridge Federation itself was formed. This event is held in the odd-numbered years. It includes the Bermuda Bowl, founded in 1950, the Venice Cup, founded in 1974, the d'Orsi Seniors Trophy, founded in 2001 and the World Transnational Open Teams – WTOT – founded in 1997. This year, it will be held in Wuhan on September 14 - 28.

October
(1) 7th CISM Military World Games
The Military World Games is a multi-sport event organized every four years by the International Military Sports Council, and the first summer games was held in 1995 in Rome, Italy. Hakeem Al-Shino, the president of the International Military Sports Council, announced China's mega city of Wuhan, capital of central China's Hubei Province, won the bid to host the 2019 Military World Games on May 21, 2015.
(2) Wuhan International Horse Racing Festival & China Flat Racing Tournament
The festival, first held in 2003, becomes an indicator of China's highest level of horse racing, which is also a grand festival of top jockeys and good horses from home and abroad. And Wuhan Orient Horse City International Racecourse is recognized as the first international standard racecourse in the central China, as well as one of China's three regular-season platforms.
(hubei.gov.cn by Ruan Xinqi)