Hubei's Chinese orchestra starts tour in the United States
Source: hubei.gov.cn 02/12/2019 05:02:06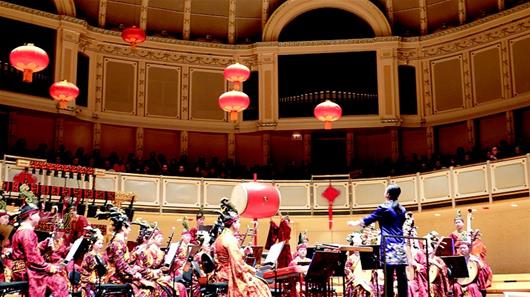 Hubei's Chinese orchestra performs at the Chicago Symphony Orchestra Center on Feb.10. (photo source: Hubei Daily)
Hubei's Chinese orchestra started the "Happy Chinese New Year" tour in the United States from February 8 to 21, so as to celebrate the 40th anniversary of the establishment of Sino-U.S. diplomatic relations.
At the invitation of the Chicago Symphony Orchestra, the Detroit Symphony Orchestra and the City Hall of Muscatine, the Hubei's Chinese orchestra, along with the performance group of National Peking Opera Company, went on tour in Chicago, Detroit, Muscatine and San Diego, etc.
On the afternoon of February 10, local time, the premiere was unveiled in the Chicago Symphony Orchestra Center.
(hubei.gov.cn by Zhang Yawei)