China Daily focuses on Wuhan
Source: hubei.gov.cn 12/26/2018 02:12:37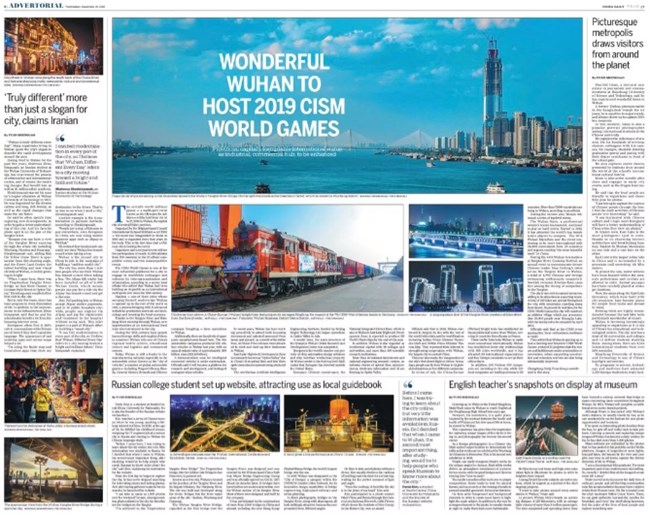 "WONDERFUL WUHAN TO HOST 2019 CISM WORLD GAMES" on China Daily, December 26, 2018.
On December 26, China Daily, an English-language daily newspaper owning the widest print circulation in China, used a whole page to cover Wuhan's urban impressions through the lenses of expats living in the city. This report "Wonderful Wuhan to host 2019 CISM World Games" introduces Wuhan's efforts in enhancing its formidable international status as industrial, commercial hub and the work Wuhan has done in the preparation for the 2019 CISM World Games.

WONDERFUL WUHAN TO HOST 2019 CISM WORLD GAMES
The seventh world military games - a multisport event known as the Olympics for soldiers - will be held from Oct 18 to 27, 2019 in Wuhan, the capital city of central Hubei province.
Organized by the Belgium-based Conseil International du Sport Militaire - or CISM - the event was inaugurated in Rome in 1995 and is organized every four years by the body. This is the first time that a Chinese city is hosting the event.
Organizers said next year's event will see the participation of nearly 10,000 athletes from 100 countries in the 25 official competitive events and two noncompetitive events.
The CISM World Games is one of the most influential platforms for a city to engage in worldwide exchanges and enhance its internationalization and urbanization, according to a senior local official who added that Wuhan had been building on its profile as an international metropolis ever since the 19th century.
Hankou - one of three cities whose merging formed modern-day Wuhan - opened up to the rest of the world in 1861, a process bringing with it advanced industrial production methods and technology and boosting the local economy.
Thanks to the Yangtze River and Hanjiang River running through Wuhan, new opportunities at an international level were also introduced to the city.
During the 19th century, local people learned foreign skills and employed them to construct Wuhan into one of China's regional textile centers, educational centers and logistics and commercial centers.
Today, Wuhan is still a leader in the manufacturing industry, especially in the automobile sector. Known as the "city of vehicles", a number of global automobile giants - including Peugeot Citroen, Honda, General Motors, Renault and Chinese company Dongfeng - have operations in Wuhan.
Additionally, there are hundreds of spare parts manufacturers based here. The five automobile companies produced 1.89 million vehicles in Wuhan last year, with an annual output value of approximately 360 billion yuan ($52.19 billion).
A demonstration zone for intelligent connected vehicles is under construction. Officials said it will become a platform for research and development, and testing of next-generation vehicles.
In recent years, Wuhan has been working proactively to attract both incoming investment and talented personnel from home and abroad. As a result of the initiatives, six Nobel Prize winners were attracted to work and start up their businesses in Wuhan.
East Lake High-tech Development Zone is commonly known as "Optics Valley" due to China's first optical fiber and first fiberoptic transmission systems being produced here.
The world-class Artificial Intelligence Engineering Institute, funded by Beijing Megvii Technology Ltd, began operations in Optics Valley in July.
A month later, the main structure of the Synopsys Wuhan Global Research and Development Center was completed.
Synopsys is the world's number one provider of chip automation design solutions and chip interface intellectual property. Its Wuhan center is the first top level R&D center that Synopsys has invested outside the United States.
Synopsys' Chinese counterpart, the National Integrated Circuit Base, which is also in Wuhan's East Lake High-tech Development Zone, is expected to produce 3D NAND Flash chips by the end of this year.
In addition, Wuhan is also regarded as intellectual capital with 89 colleges and universities, and more than 100 scientific research institutions.
More than 40 national laboratories and national engineering research centers, an industry cluster of optical fiber, semiconductor, electronic information and AI are forming in Optics Valley.
Officials said that in 2018, Wuhan continued to deepen its ties with the rest of the world with visits paid by world leaders including Indian Prime Minister Narendra Modi and British Prime Minister Theresa May. They expressed their interest in strengthening cooperation with Wuhan, the largest city in central China.
This year also marks the inauguration of the city's first direct flight to Africa. Nowadays, people can fly from Wuhan to 52 global destinations on five different continents.
In terms of rail, the China-Europe (Wuhan) freight train has established six transcontinental routes from Wuhan, covering 11 countries from Russia to France.
These traffic links help Wuhan to make more connections internationally. Wuhan has established sister city relationships with 108 cities worldwide, and it has attracted 30 international organizations and four foreign consulates to set up their offices there.
In addition, 256 Fortune 500 companies are investing in the city, while 231 local companies are trading overseas in 69 countries. More than 17,600 expatriates are living in Wuhan, according to an official.
During the current year, Wuhan witnessed a series of top-level events.
The Wuhan Open, a professional women's tennis tournament, continued to play on hard courts. Started in 2014, it has attracted the world's top female tennis players to compete. The 2018 Wuhan Marathon saw the event continuing to be more international with 24,000 contestants from 29 countries and regions running "the most beautiful track" in China.
During the 44th Wuhan International Yangtze River Crossing Festival, an annual event to commemorate former Chinese leader Mao Zedong's swim across the Yangtze River in Wuhan, a total of 4,700 Chinese and foreign swimming enthusiasts competed. Swedish swimmer Kristian Kron came first among the throng of competitors in the Yangtze.
The city is also rich in natural resources, adding to its attraction as a sporting venue. A total of 166 lakes are spread throughout the city, with mountains standing along their shores. To present its best face, for the CISM World Games the city will construct an athletes village which can accommodate 10,000 people near Huangjia Lake, with the facility set to be complete by April 2019.
Officials said that as the CISM event approaches, local enthusiasm continues to build.
They added that Wuhan is gearing up to host a dazzling and futuristic CISM World Games: a total of 35 projects related to venues and facilities are under construction or renovation; urban supporting construction and voluntary services are also being substantially improved.
Changjiang Daily Press Group contributed to this story.

'Truly different' more than just a slogan for city, claims Iranian
"Wuhan is truly different every day!" Many expatriates living in Wuhan quote the city's slogan to describe the rapid development around the area.
Having lived in Wuhan for the past five years, Shahrouz Ebrahimpanah, an Iranian student at the Wuhan University of Technology, has experienced the process of urbanization and internationalization, and of course, the resulting changes that benefit him as well as 10 million other residents.
Ebrahimpanah started his master's degree education at Wuhan University of Technology in 2013. He was impressed by the diverse culture and long, rich history, as well as the rapid changes that make the city better.
He said he often spends time exploring new developments, in order to gain a better understanding of this city. And his favorite photo spot is on the pier of the Yangtze River.
"Because you can have a view of the Yangtze River running through the whole city including Wuchang, Hankou and Hanyang," Ebrahimpanah said, adding that the Yellow Crane Tower is spectacular from this shooting angle, and the Green Land Center, the tallest building and new visual identity of Wuhan, is visibly growing in height.
"When I came here, there was no Yingwuzhou Yangtze River Bridge, no Han Show Theater, or German Style Street in Optics Valley," Ebrahimpanah recalled of his first visit to the city.
But in only five years, there has been progress in every dimension of life. In addition to the improvements in the infrastructure, Ebrahimpanah said that he and his schoolmates benefit a lot from the booming internet scene.
Foreigners often find it difficult to communicate with Chinese taxi drivers if they don't speak the language. The appearance of taxi ordering apps and online maps helped a lot.
"I'm using the Baidu map and translation apps that show my destination to the driver. They're so nice to me when I need a ride," Ebrahimpanah said.
Another example is the transformation in payment methods, according to Ebrahimpanah.
"People are using cellphones to pay everywhere; even foreigners in China are now using mobile payment apps such as Alipay or WeChat."
He noticed that local people can easily use their Wuhan bus transit e-card when taking a bus.
Wuhan is the second city in China to join in the campaign of building a "cashless model city".
The city has more than 1 million people who use their Wuhan bus transit e-card when taking a bus. The Alipay QR reader has been installed on all of 8,000 Wuhan buses, which means people can pay for a ride via the Alipay bus transit e-card and get a discount.
Also, 200 parking lots in Wuhan accept Alipay mobile payments, and in 18 public hospitals citywide, people can register via Alipay, and pay for registration and treatment in the hospital without using cash. This pilot project is a part of Wuhan's effort in building a "smart city".
"I can feel modernization in every part of the city, so I believe that 'Wuhan, Different Every Day' refers to a city moving toward a bright and brilliant future," Ebrahimpanah explained.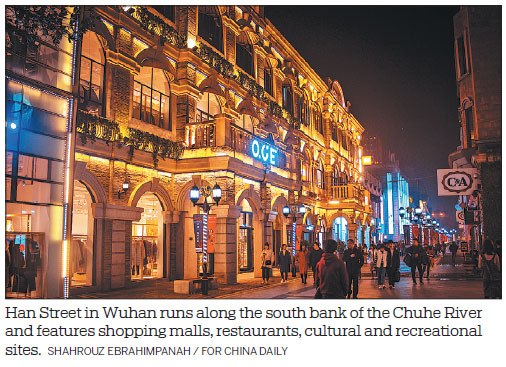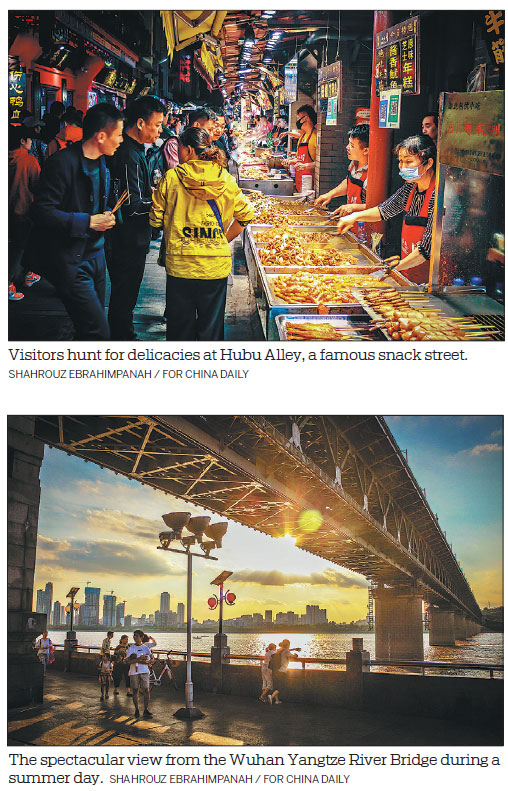 Russian college student set up website, attracting use as local guidebook
Denis Kim is a student at South-Central China University for Nationality. He is also the founder of the Russian website wuhanshi.ru.
Kim watched a series of Chinese movies when he was young, sparking a lifelong interest in China. In 2016, at the age of 38, he fulfilled his childhood dream, resigning his IT engineer job at a university in Russia and moving to Wuhan for Chinese language study.
"Before I came here, I was trying to learn about the city online, but very little information was available in Russia. So I decided that when I came to Wuhan, the second most important thing, after studying, would be to help people who speak Russian to know more about the city," said Kim, explaining his motivation for the website.
From the first day he began to explore the city, he has never stopped searching for interesting places and taking photos. And after having gathered material for six months, he launched his website.
"I can take as many as 1,000 photos over the weekend," he says. Among countless photo subjects in the city, his favorites are the bridges on the Yangtze.
"I'm addicted to the Yingwuzhou Yangtze River Bridge." The Yingwuzhou bridge, like the Golden Gate Bridge in San Francisco, is painted red.
Known as a river city, Wuhan is located at the junction of the Yangtze River and its largest tributary, the Hanjiang River. The city was built and developed along the rivers. Bridges link the three major areas of the city: Hankou, Wuchang and Hanyang.
The Wuhan Yangtze River Bridge, regarded as the first bridge over the Yangtze River, was designed and constructed by the Wuhan-based China Railway Major Bridge Engineering Group and was officially opened on Oct 15, 1957. About six decades later, 13 bridges have been built or are under construction over the Wuhan section of the Yangtze River. Most of them were designed and built by the company.
It has participated in the construction of more than 2,000 bridges in China and abroad, including the new Hong Kong-Zhuhai-Macao Bridge, the world's longest bridge over the sea.
In 2017, Wuhan was designated as the "City of Design", a category within the UNESCO Creative Cities Network, for its innovative design capabilities in bridge engineering, high-speed railways and urban planning.
In Kim's photographs, bridges on the Yangtze River, along with skyscrapers, all look strikingly attractive, because they are presented from different angles.
He likes to take aerial photos without a drone. Kim usually climbs to the rooftops of buildings and sits there for a whole day, waiting for the perfect moment of light and angle.
"From the rooftops, it feels like the city is in the plum of my hand" Kim said.
Kim participated in a photo contest titled China and Russia through the Camera Lens last year. His work, Calla Flower, which shows the Institute of New Energy in the Future City, won an award.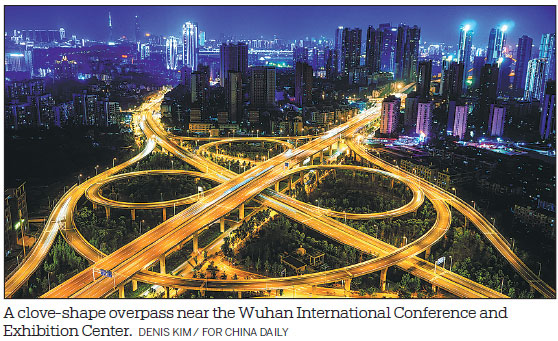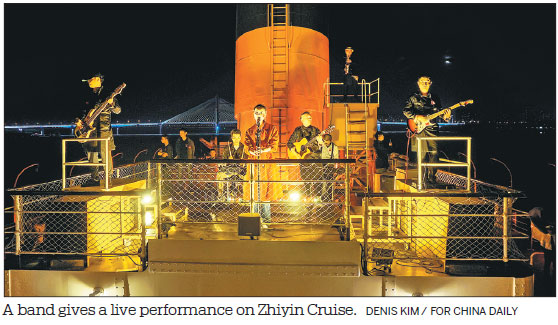 English teacher's snapshots on display at museum
Growing up in Wales in the United Kingdom, Matt Neale came to Wuhan to teach English at the Pengliuyang High School two years ago.
Newport, his hometown, is a quiet place. Inspired by the contrast between the hustle and bustle of Wuhan and his slow-paced life at home, he moved to Wuhan.
This experience has given him the inspiration for capturing unique images of the city he is living in, and photography has become his second career.
As a foreign photographer in a Chinese city, Matt earned opportunities to demonstrate his skills as his works are on exhibit at the Wuchang Art Museum in December. This is his second solo exhibition in 2018.
People can easily recognize Neale's works by the unique angles he chooses. Most of his works deliver an atmosphere reminiscent of a science fiction movie, with the great bridges and flyovers turning into "time tunnels".
The modern touches of his work owe to proper composition: Neale tends to look for natural frames, such as an arch or the crossing of roads, to present beautiful, geometric forms of architecture.
He then adds foreground and background elements in order to create more layers to highlight the main subject. In addition to the way he arranges elements in the photo, he mostly shoots at night to make them look more fashionable.
He likes to use cool tones and high color saturation light to illuminate his photos, in order to heighten their impact.
Among Neale's favorite subjects are metro stations, which he regards as a symbol of the city's ongoing progress.
"I want to take photos around every metro station in Wuhan," Neale said.
At present, Wuhan Metro boasts an operating distance of 237 kilometers, with an average daily volume of more than 3 million passengers. The nine completed and operating metro lines have formed a subway network that helps to make commuting more convenient throughout Wuhan. By 2021, Wuhan will complete an additional seven metro transit projects.
Although Neale is fascinated with Wuhan's metro stations, he usually travels by bus, as he can constantly be on the lookout for new photo opportunities and locations.
If he spots an interesting photo location from the bus, he gets off and walks back to take pictures. Carrying a camera and capturing unique images of Wuhan has become a daily routine. So far, he has shot more than 5,000 photos.
Many netizens are enthralled by the photos that he has posted in his portfolio on the Weibo platform. Images of magnificent neon lights, tranquil lakes, old houses by the river and people's cozy lives in old towns capture the diverse elements of life in Wuhan.
"I am a documentary film graduate. The most important part of my creativeness is storytelling. So, recently I decided that all the images I create must tell a story."
Neale moved on to document the daily lives of ordinary people and old thriving communities near his accommodation because these subjects retain their Chinese roots. His flat is located near the city's landmark Yellow Crane Tower. There, he can grab authentic hot-and-dry noodles for breakfast, and every day stroll along laneways, feel the pulse of the lives of local people and explore something new.
Picturesque metropolis draws visitors from around the planet
Shariful Islam, a doctoral candidate in journalism and communications at Huazhong University of Science and Technology, said he has experienced wonderful times in Wuhan.
A former Xinhua photojournalist in the Bangladesh branch for six years, he is sensitive to major events, and always shows up to capture life's key moments.
At this moment, Islam is also a popular portrait photographer among international students at the Chinese university.
He captures the milestones of student life for hundreds of overseas student colleagues with his camera, for example, students donning graduation gowns and posing with their degree certificates in front of the school gate.
He also captures exotic dances presented by students from around the world at the school's international cultural festival.
Islam is also active socially after class and engages in many city events, such as the dragon boat racing.
He said that the local people are friendly to expatriates and cheerfully pose for photos.
"I am trying to capture the essence of Chinese people through the lens. I find the daily activities of Chinese people very interesting," he said.
"I am fascinated with Chinese culture and I hope more foreigners will have a better understanding of China when they view my photos."
In Islam's view, East Lake is the most photogenic spot in town, thanks to its charming historic architecture and breathtaking location, flanked by Moshan Mountains on one side and a vast lake on the other.
East Lake is the largest urban lake in China and is surrounded by a greenway trail stretching 101 kilometers.
To protect the lake, motor vehicles have been banned within the area; only pedestrians and cyclists are allowed to enter. Animal passages have been carefully placed at strategic locations.
Now, the areas along the East Lake Greenway, which were built with city resources, have become places for people from home and abroad to enjoy.
Evening visits are highly recommended because the vast lake looks particularly spectacular at sunset.
Wuhan is becoming increasingly appealing to expatriates as it is one of China's key educational and technological centers. The city now has a total of 89 universities and colleges and 1.3 million students studying there. Among them, there are 8,544 international students from over 200 countries.
Huazhong University of Science and Technology is one of China's top-flight universities.
Its programs in science, technology and medicine have attracted 2,285 foreign students to study here.