COCPDC, a bridge connecting Hubei to the world
Source: hubei.gov.cn 11/29/2018 03:11:45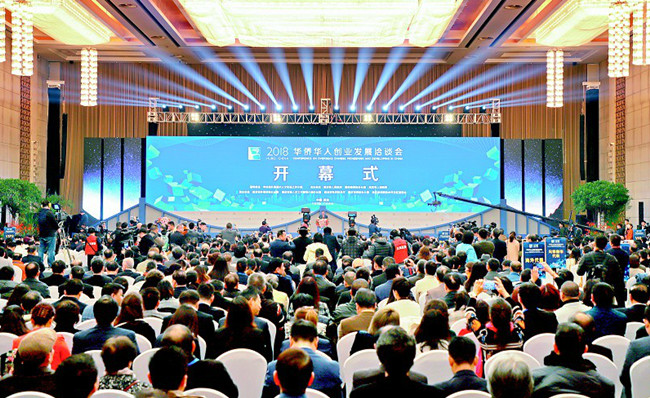 The 18th Conference on Overseas Chinese Pioneering and Developing in China (COCPDC) opens in Wuhan, capital city of Hubei, on November 21, 2018.
After three days of conferences and forums, the 18th Conference on Overseas Chinese Pioneering and Developing in China (COCPDC) dropped the curtain on November 24 in Wuhan, central China's Hubei Province.
This year, more than 3,000 people from 71 countries and regions participated in the event, and 121 projects worth more than 66.7 billion yuan were inked.
Recognized as the biggest economic and technological event for Chinese overseas, COCPDC has become a bridge between China and the rest of the world.
A bridge to attract investment and talent
18 years have passed since the launch of the COCPDC. According to statistics, the conference has invited more than 20,000 representatives of overseas Chinese in total and saw the signing of more than 2,200 projects.
This year, Wuhan Landing Medical High-tech Co., Ltd. and the Bank of China Group signed a cooperation agreement. According to Sun Xiaorong, CEO of Wuhan Landing Medical High-tech Co., Ltd., she decided to return to China after participating in the 1st COCPDC in 2001 and for now, her technology on early diagnosis of cancer has been adopted by a hundred Chinese hospitals.
At the Zhiyin Hanyang Forum, six people including Yu Peng, president of the Hubei Association in California, USA, were recruited by Hanyang District as "ambassador to attract investment and talent" . "The COCPDC has created a good environment for innovation and entrepreneurship and strengthened the confidence of overseas Chinese in investing and starting a business in China," Yu said.
An innovation bridge
The COCPDC is initially a conference presenting the entrepreneurial achievements of overseas Chinese, but over time it has developed several programs and has become an important platform for innovation and business creation.
The "Huachuangbei" Entrepreneurship Contest, created 5 years ago, attracted more than 1,800 domestic and foreign projects. "Qiaomengyuan", a special area for overseas Chinese established by the Office of Overseas Chinese Affairs of the State Affairs Council in partnership with the local government in 2016, has brought together more than 40,000 people and about 3,000 companies. There is still the COCPDC Academy. Created in 2014, it is an incubator for start-ups that has already provided training to more than 500 people.
With all this, the COCPDC has an increasingly broad reach in neighboring provinces and cities. Henan Province, Ma'anshan City (Anhui Province) and Zhenjiang City (Jiangsu Province) have participated in this event for several consecutive years and this year, Yiwu City (Zhejiang Province) was for the first time present at the conference.
A bridge connecting China to the world
Ma Dongya, president of the Hubei Association in Russia, has participated in the COCPDC for 18 consecutive years. According to him, the overseas Chinese took this event as the symbol of Hubei and Wuhan as well as their home in China.
This year, sessions on Hubei technologies in Africa and international investments were organized during the COCPDC to promote exchanges and cooperation with countries along the "Belt and Road". Overseas Chinese in the United States, Canada, Belgium and Germany volunteered to organize the local sessions.
In recent years, the COCPDC has nevertheless organized parallel sessions abroad to facilitate the overseas Chinese. It is stated that the COCPDC had close links with a hundred overseas Chinese associations. (en.hubei.gov.cn)