Hubei embraces 5,000 foreign medical students
Source: hubei.gov.cn 11/29/2018 11:11:20
Foreign medical students participate in the 150th anniversary of Wuhan Union Hospital.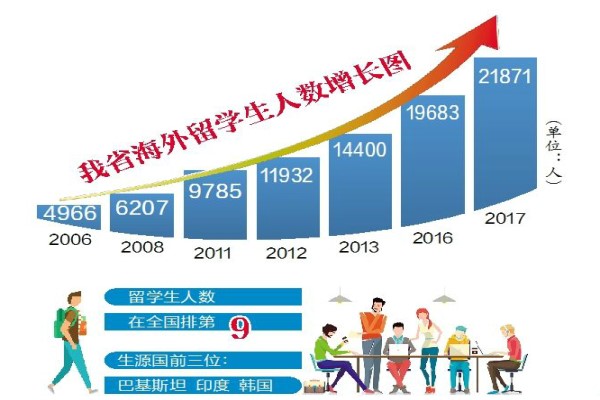 The number of Hubei's overseas students during 2006-2017
Hubei embraces 5,000 foreign medical students among over 20,000 overseas students, studying at top medical colleges such as Tongji Medical College of Huazhong University of Science and Technology, Hubei University of Chinese Medicine, etc., according to the statistics.
Different from separation of clinical practice and scientific research in European and American medical colleges, China's training system in medical colleges emphasizes the integration of clinical practice and scientific research, which can enrich foreign medical students' knowledge of clinical cases.
The Chinese culture also attracts overseas students. A Jordanian student Abdullah Haman said that the reason why he refused offers from other countries was that China enjoyed a unique culture, unlike the Western world. He planned to stay in China after graduation.
Foreign medical students prefer traditional Chinese medicine (TCM), stomatology and minimally invasive surgery. Currently, China has reached an international leading level in terms of minimally invasive surgery, and even surpassed European and American countries in the fields of gastric cancer, colon cancer, liver cancer and pancreatic disease, etc.(hubei.gov.cn by Zhang Yawei)