OVC EXPO 2018 opens
Source: hubei.gov.cn 11/15/2018 11:11:34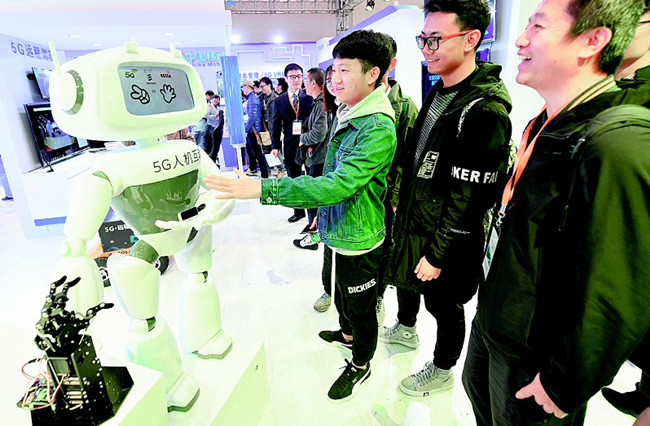 The visitors plays finger-guessing game with the robot at the exhibition hall. (photo by Zhang Peng/ Hubei Daily)
Under the theme of "Light Links the World, Wisdom Leads Future", the 15th Optics Valley of China International Optoelectronic Exposition and Forum (OVC EXPO) was grandly opened in Hubei Province's capital city Wuhan, where the Opitcs Valley is located, on November 14, 2018.
With participation of more than 400 enterprises from home and abroad, the 3-day OVC EXPO witnessed exceeding 10,000 visitors and brought in 15 major projects totalling 23 billion yuan on the opening day.
This year's OVC EXPO gives prominence to the integration and development of intelligent manufacturing, internet +, artificial intelligence and other fields relating to information technology industry. The new products, technologies and innovative achievements promoted by the leading companies both from home and abroad will be displayed on an exhibition area of 20,000 square meters, in six exhibition halls and for five different themes.
In addition, 25 parallel sessions will be held during the event.
Launched in 2002, the OVC EXPO has been successfully held 15 editions. As such an optoelectronic exposition ranked among China's top 3, it has attracted more than 500,000 visitors and nearly 5,000 famous enterprise exhibitors from over 30 countries and regions as well as organized more than 130 professional forums until this year. (hubei.gov.cn by Ruan Xinqi)