Round-table Conference of 2018 Fortune 500 Dialogue with Hubei held in Wuhan
Source: hubei.gov.cn 09/13/2018 04:09:59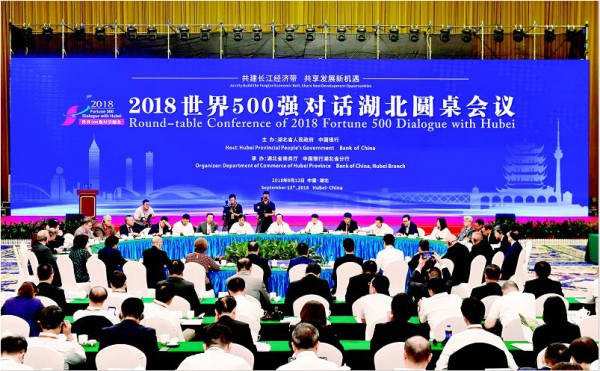 (photo source:Chutian Metropolis Daily)
On September 12, the Round-table Conference of 2018 Fortune 500 Dialogue with Hubei was held in Wuhan. Hubei's provincial governor Wang Xiaodong attended the conference and delivered a keynote speech, vice governor Tong Daochi chaired the conference.
Under the theme of "jointly build the Yangtze Economic Belt, share new development opportunities", the representatives of the event, including executives of world's top 500 enterprises and multinational corporations, delegates of economic and trade partner countries along the "Belt and Road", etc., were engaged in the dialogues.
At the conference, Wang Xiaodong emphasized that it was necessary to share development opportunities with more globally-renowned enterprises, so as to build a better cooperation platform and propel the complementary advantages for achieving high-quality economic development. With the establishment of International Business Leader's Advisory Committee for Hubei's Provincial Governor, Wang Xiaodong awarded letters of appointment to seven counselors including Senior President of Charoen Pokphand Group Xie Guomin, Executive Vice President of Schneider Electric Yin Zheng, Global Vice President of Walmart Inc. Shi Jiaqi, General Manager of HSBC Group Liao Yijian, General Representative for China of Marubeni Corporation Ping Zeshun, Senior Vice President of Volvo Group Claes Svedberg and Senior Vice President of Philips Lighting Wang Yun.
The representatives of Fortune Global 500 enterprises also participated in the special promotion conferences in Xiangyang, Xianning and Wuhan. And they were optimistic about the development prospects of Hubei which enjoyed the cultural tradition of innovation and innovative resource superiority.
In the future, Hubei will further promote the sharing of opportunities to achieve the industrial cooperation at a higher level and opening up in a wider range. Excellent enterprises at home and abroad will be welcomed to take advantage of high-end manufacturing, artificial intelligence, modern service industry and modern agriculture, so as to promote higher quality development in the new era.(hubei.gov.cn by Zhang Yawei)
Related:Wang Xiaodong meets with executives of Fortune Global 500 companies