The Boao Forum for Asia Members Symposium for Cooperation in Wuhan held
Source: hubei.gov.cn 07/02/2018 04:07:38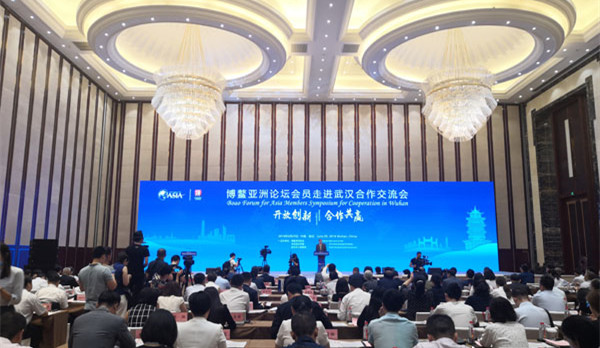 The Boao Forum for Asia Members Symposium for Cooperation in Wuhan was held on June 29, 2018. (photo source: hb.people.cn)
The Boao Forum for Asia Members Symposium for Cooperation in Wuhan was held on June 29, with attendance of over 200 people, including more than 80 members from the Boao Forum for Asia and related important guests.
Under the theme of"Innovation and Cooperation", this symposium sought to focus on the leading role of investment promotion for high-quality development in Wuhan.
29 major projects were signed on site with a total investment of 231.31 billion yuan, marking the special investment promotion event enjoying the highest total contract value in Wuhan this year. Among these projects, 14 enjoy capital inflow from the World's top 500 and China's top 500 companies. The total contract value amounts to 154.1 billion yuan, accounting for about two-thirds of the total investment, which would inject strong momentum into the high-quality development of the city.
The Boao Forum for Asia is an unofficial, non-profit international organization initiated by 29 Asian countries and Australia. Optimistic about Wuhan's development prospects as an important city in the central region as well as the Yangtze River Economic Belt, it hopes to build a platform for member enterprises to seek new opportunities in the city. (en.hubei.gov.cn)