3rd Jingshan Tennis Festival opens
Source: hubei.gov.cn 05/21/2018 05:05:29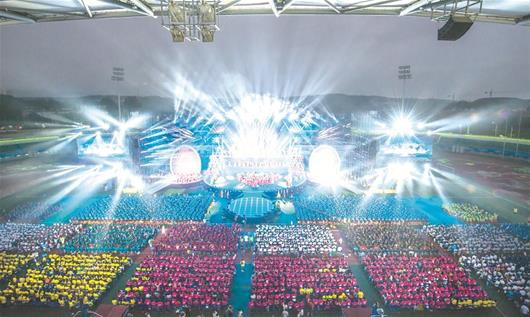 The opening ceremony
The third China Tennis Festival (Jingshan) opened on May 18, in Jingshan, Jingmen City of Hubei, attracting 127 Chinese and foreign teams compete together.
Launched in September 2012, this tennis festival is held every three years. It is selected by the General Administration of Physical Culture and Sport and the National Office of Tourism among the 96 excellent tourism and sporting projects in the country.
This year, 9 events will be held until June 10, and 24 projects worth a total of 11.57 billion yuan were signed on May 19, including the Jingshan Tennis Village project.
Jingshan District has been working on tennis promotion since 1986, when the first tennis team was formed. It currently has 80,000 tennis fans and more than 220 tennis courts, the majority of which open to the public at no charge. (en.hubei.gov.cn)