Amazing Wuhan wows foreign guests
Source: hubei.gov.cn 05/10/2018 04:05:06
Representatives gathered in Wuhan for the ongoing Tourism Ministers' Meeting of SCO Member States pose for a photo in the front of Zhiyin Hao cruise on the evening of May 9, 2018. (photo by Mei Tao/ Hubei Daily)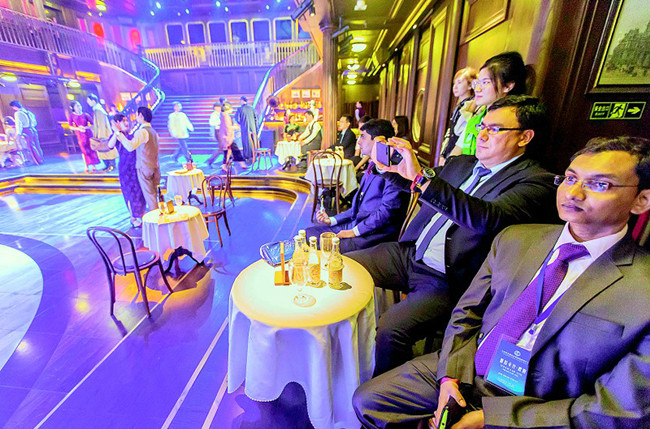 Representatives gathered in Wuhan for the ongoing Tourism Ministers' Meeting of SCO Member States enjoying the performance in Zhiyin Hao cruise. (photo by Mei Tao/ Hubei Daily)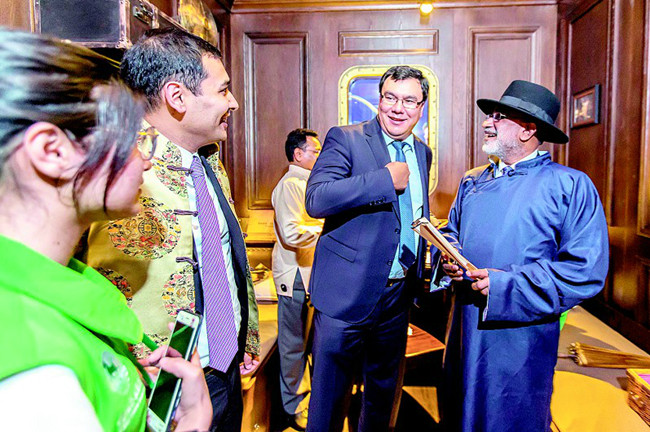 Representatives gathered in Wuhan for the ongoing Tourism Ministers' Meeting of SCO Member States put on retro costumes. (photo by Mei Tao/ Hubei Daily)
"That's amazing!" wowed the foreign guests who gathered in Wuhan for the ongoing Tourism Ministers' Meeting of SCO Member States, when they saw the spectacular night view of Wuhan on the Zhiyin Hao cruise, on the evening of May 9.
Abdukhakimov Aziz, Chairman of Uzbek Tourism Development Committee, appreciated his first show-watching experience on a moving cruise. "I enjoy all the stories and performance pieces. I hope I'm able to come here again. " he said.
Alphons Kannanthanam, Minister of State for Tourism of India, lingered among the vintage oiled paper umbrella, desk lamp and other retro objects in the rooms of Zhiyin Hao and spoke highly of the performances.
The night view of Wuhan left them another deep impression after they boarded onto the fifth floor of the cruise: over 500 buildings standing along the both sides of Yangtze River were illuminated, changing into red and blue from time to time with dozens of images flowed through the walls.
"Wuhan is very beautiful and amazing, it is even as good as Shanghai, Tokyo and Paris, " admired Abdukhakimov Aziz. (en.hubei.gov.cn)