Hubei landscapes warm up for the Tourism Ministers' Meeting of SCO Member States
Source: hubei.gov.cn 05/09/2018 05:05:39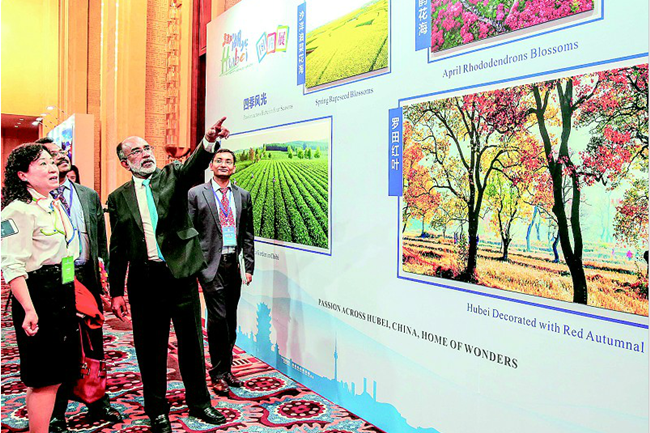 Indian representatives having a look at photos showing beautiful Hubei landscapes (photo by Mei Tao/ Hubei Daily)
The Hubei Tourism Promotion and Welcoming Conference was held on the evening of May 8 in Wuhan, with attendance of representatives of the Tourism Ministers' Meeting of SCO Member States.
Apart from a photo exhibition showing the beautiful landscapes of the province, Hubei presented at the conference its specialties and folk music, leaving a deep impression on the attendees.
"This is my first visit to China, but I have been waiting for it for a long time, this conference gives me a more direct impression and I think Hubei is a very beautiful province. Wuhan, the old Longzhong in Xiangyang, for example, attract me, "said Tehreem Ilyas, a diplomat from Pakistan.
The Tourism Ministers' Meeting of SCO Member States is scheduled from 7 to 11 in Wuhan, during which foreign representatives will travel to the East Lake Greenway, the Hubei Provincial Museum and will board the Zhiyin Hao cruise for a better feel of the province's charm. (en.hubei.gov.cn)