Shennongjia UNESCO site limits daily visitor number
Source: Xinhua 05/08/2018 03:05:41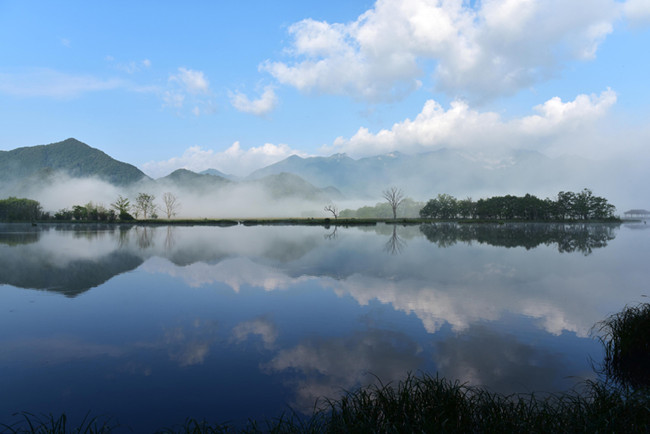 This file photo shows the scenery of the wetland of Dajiu Lake in the Shennongjia Forestry District, Central China's Hubei province. [Photo/Xinhua]
The Shennongjia World Natural Heritage site in Central China's Hubei province has set daily visitor limits to protect the site.
According to a provincial regulation, which took effect on May 2, visitor numbers should be limited as a measure for the strictest protection of the site.
The Shennongjia National Park is divided into four major areas, including a protection area and a tourism area.
The tourism area, covering only 3.5 percent of the park, has six scenic spots. The Shennongding scenic spot has limited the daily number of visitors at 14,800, which is the highest visitor cap among all spots. The Tianshengqiao scenic spot has the lowest daily cap, with 4,770 people.
In 2017, the daily number of visitors at the Shennongding scenic spot alone reached nearly 20,000 during holidays.
Wang Wenhua, deputy director of the Shennongjia National Park's Administration Office, said the visitor cap of each scenic spot was based on the environment carrying capacity and resource monitoring results.
Shennongjia was included on the UNESCO World Heritage List in 2016. It covers 73,318 hectares, and is home to 3,767 species of vascular plants, more than 600 species of vertebarates, as well as 4,365 species of insects. There are also about 1,300 golden monkeys living at the site, which are under top-level state protection.
The regulation also requires the national park to strengthen monitoring and administration in the tourism area to protect the natural resources and biodiversity of the site.