Hubei receives 28.69 million visitors during 2018 May Day holiday
Source: hubei.gov.cn 05/02/2018 01:05:54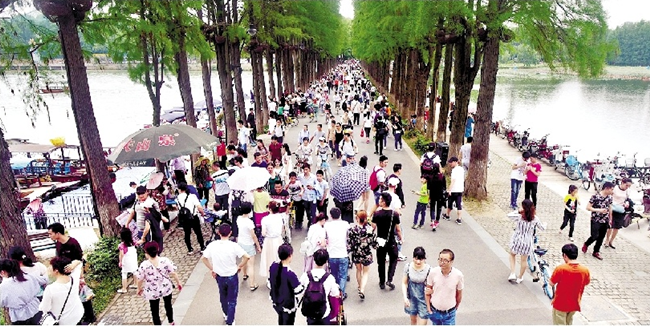 The East Lake Greenway welcomed an influx of tourists in Wuhan, May 1, 2018. (photo: Chutian Metropolis Daily / Zhou Yuan)
During the just-ended May Day holiday (April 29 to May 1), Hubei saw a tourism boom. The official data show that the province totally received 28.69 million visitors and brought in tourism revenue of 13.435 billion yuan, surging by 16.8 percent and 18.3 percent, respectively.
Tea culture, flower-viewing and traditional Chinese medicine regimen attracted an influx of tourists to the countryside around Hubei. The Guifeng Mountain in Macheng welcomed 61,000 people in the three days for the 10,000-mu rhododendrons which was once again screened on CCTV, becoming an eye-catcher in the country.
Wuhan, the capital of Hubei province, alone received 6.0283 million people, totaling tourism revenue of 2.223 billion yuan, up 15.13 percent and 21.28 percent, respectively.
The tourist sites with footprints left by Chinese President Xi Jinping and Indian Prime Minister Narendra Modi during their informal meeting on April 27-28 in Wuhan, were eagerly sought by the public. According to statistics, the East Lake took in 801,800 visitors in three days, an increase of 101.49 percent; the Hubei Provincial Museum admitted 60,000 visitors, an increase of 100.25 percent.
Special events across the province have also attracted a number of tourists. The 2018 Douyu Carnival gathered fans all over the country. The kite festival in the Wuhan Economic Development Zone attracted some 60,000 visitors. More than 80 activities held in Xianning City attracted over 1.58 million visitors and yielded income of 983 million yuan. (en.hubei.gov.cn)