Dutch Days Wuhan 2017 kicks off
Source: hubei.gov.cn 11/22/2017 04:11:57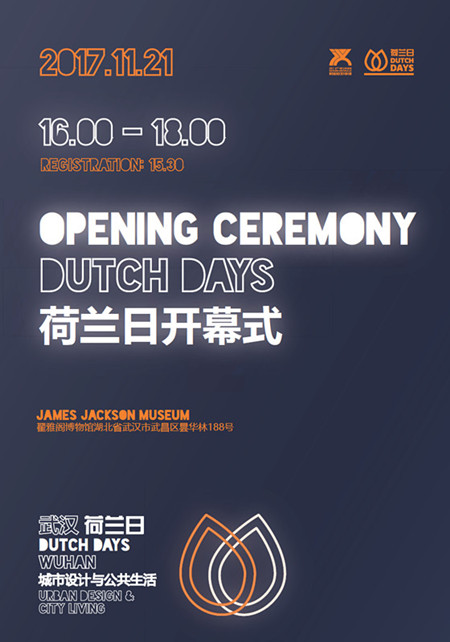 On November 21, the 3rd Dutch Days, organized by the Netherlands Business Support Office in Wuhan, held the opening ceremony at the James Jackson Museum in Wuhan, capital city of central China's Hubei Province.
With the theme of "Urban Design and City Living", this year's Dutch Days will present top-notch works from Dutch representatives by means of exhibitions, presentations, installations, and other public activities in Wuhan.
It invites audiences for an interesting interaction between the Netherlands and China in the fields of culture, design and art, and stimulates new business explorations between Dutch and Chinese individuals and enterprises.
"荷兰日"是由荷兰政府发起,旨在推动多个领域的中荷文化及商务交流的系列公共活动。从《城市设计与公共生活》这一主题出发,本届"武汉荷兰日"将通过展览、装置、讲座、工作坊及公共活动等方式呈现来自荷兰的顶尖作品。项目邀请公众参一场中荷文化、设计与艺术的丰富互动,并希望借此探索中荷企业与机构的商务合作契机。本届"武汉荷兰日"项目由荷兰驻华大使馆发起,由荷兰贸易促进委员会武汉代表处主办。
继"荷兰日"系列活动在中国多座城市的成功举办,今年11月21日至11月26日期间,武汉将迎来属于这座城市的第三届"武汉荷兰日"。与第四届"武汉设计双年展"紧密合作,本届"武汉荷兰日"将围绕着"城市设计、水利规划与未来公共空间"等议题呈现多样化的荷兰项目。

Events introduction
CONFERENCE: URBAN DESIGN & CITY LIVING城市设计与公共生活论坛
Time: 14:30 - 17:30, November 23
Venue: James Jackson Museum (翟雅阁博物馆)During this conference, Dutch experts in the fields of architecture, landscaping and public art will discuss current themes and questions surrounding urban design, city living and public spaces development.
The conference will discuss the role of urban design and quality public spaces in connecting the physical neighbourhoods in the city and social interventions that connect communities. Experts who have contributed, both in Europe and in China, to improving urban areas are invited to participate. Jointly with Chinese industry professionals and entrepreneurs, panels are organized to share concepts, ideas and experiences.
与"武汉设计双年展"紧密合作,"武汉荷兰日"将带来题为《城市设计与公共生活》的设计论坛,探讨城市发展的新思路。分别来自城市规划(Powerhouse Company)、建筑设计(MARS Architecture)与公共艺术(Nieuw Dakota)的三位荷兰顶尖行业代表将作为嘉宾参与论坛,呈现不同角度的设计与艺术视野;他们也将围绕"联结城市社区、艺术与设计的社会性介入、为更好的生活而设计"三个方向的话题与中国专家代表展开交流对话。
INTERNATIONAL FORUM: YANGTZE RIVER DEMONSTRATION DISTRICT长江新城规划国际论坛
Time: 09: 30 - 11: 30, November 24
Venue: James Jackson Museum (翟雅阁博物馆)
The water industry is one of the nine top sectors of the Netherlands. The sector Water involves mainly in protecting land, generating energy from water and technologies to reuse water. Three renowned Dutch companies in the fields of spatial planning, urban design and engineering are invited to take part in this Water Conference and share their lasted insights on urban water management.
武汉作为一座湖泊水文资源极为丰富的城市,也面对着相似的问题。在本场论坛期间,三家知名荷兰企业(Arcadis, KuiperCompagnons, NITA Group)将分别从空间设计、城市规划及水利工程方向出发,带来关于滨水城市设计与管理的经验分享及策略建议。同时,来自这两个论坛的五家荷兰企业将带来《荷兰滨水规划及城市设计邀请展》,围绕滨水规划及城市设计这一主题,展示荷兰最具代表性的城市规划方案及经典作品。作品将在湖北美术学院美术馆展出。
PHOTO EXHIBITION: DUTCH WATER + WORKS 荷兰滨水邀请展
Time: 09: 30 - 11: 30, November 24
Venue: James Jackson Museum (翟雅阁博物馆)
The photo exhibition "Dutch Water + Works" presents work from renowned Dutch companies in the fields of engineering, spatial planning, urban design, architecture and landscape design and showcases a variety of Dutch solutions and Dutch design practices; a collection of modern masterpieces.
荷兰是著名的低地国家,有大约26%的国土都在海平面以下,只有50%左右的的土地仅仅高于海平面1米,荷兰可谓是"与水共生"。随着海平面的逐年增高,荷兰也在不断地突破、创新、寻找解决水利问题的新方案。《荷兰滨水规划及城市设计邀请展》将呈现来自荷兰顶级设计及规划机构的作品案例, 涵盖空间规划、城市设计、建筑、景观及水利工程管理等。展览将围绕滨水规划及城市设计这一主题,展示荷兰最具代表性的城市规划方案及景点作品。
THE BEST 50㎡ 《最好的50平》
Time: November 21 - 23
Venue: Fan Yue Hui & Hubei Institute of Fine Arts (泛悦汇 & 湖北美术学院)
It is an open discussion about our public space. In an effort to demonstrate the importance of physical space, we search for ideas and answers to these questions. Dutch and Chinese creative industries develop ideas for the best 50 square meters' public space in town. During Beijing Design Week, Dutch concept developers guide a group of workshop participants to literally develop 50 square meters for the public. We encourage artistic thought while nurturing a public space to interact with.
继2017年"北京设计周"期间作为公共艺术项目的《最好的50平》成功开展,"武汉荷兰日"将呈现由三个分场组成的新一期《最好的50平》。来自荷兰阿纳姆市的创意组合Metamorphosa、来自阿姆斯特丹市的当代艺术平台Nieuw Dakota、以及来自荷兰建筑与规划设计机构MARS Architects将带来一天的工作坊,与本地参与者们一同探讨及实践"如何打造城市里最好的50平公共空间"。《最好的50平》项目由荷兰About Asia携手荷兰顶尖创意产业代表共同打造。
FLOATING LIGHTS 漂浮之旅
Time: November 11 - 26
Venue: Hubei Institute of Fine Arts (湖北美术学院)
Floating Lights is an universe of beams that reproduce themselves infinitely and give the spectator the sensation of floating in an abstract world. It is a visual, optical experience where is being played with time and space. Floating Light was one of the highlights of the Amsterdam Light Festival and one of the few chosen artworks for the 2016 Bangkok 'Kingdom of Light Festival'.
Floating Light呈现"光之宇宙"的概念,光束不断复制自身,给观众带来漂浮于抽象世界的观感。作品通过几句超验意味的视觉体验, 介入关于时间与空间的探讨。 装置犹如在黑暗空间的舞者, 通过镜像不断复制自身形态, 仿佛无穷无尽的舞蹈。 进入空间的观众跟装置的每一次接触, 都将带来涟漪般散开的空间视觉。
BAMBOO TRIPOD TOWER 竹造塔
Time: November 18 - December 2
Venue: Tan Hua Lin (昙华林片区)
Bamboo Tripod Tower is a participatory public art project which is made up of 14 separate layers made of bamboo sticks of 6 feet length. Once stacked, they reach a top of 21 meters high. It is built and erected in just one day with the help of dozens of volunteers, led by a group of Dutch artist of the Versteegde family. The Versteegde's gained global recognition with international projects in various countries across Europe and beyond, including the United States, Cuba, Canada, Indonesia and China.
竹造塔是充满公众参与性的搭造艺术项目。由14层竹子结构层叠搭建起来。竹子装置高达21米,它将由公共参与小组在荷兰艺术家——Versteegde家族的带领下在一天之内完成。
SOCIAL SPARKLES 星耀
Time: November 21 - December 10
Venue: James Jackson Museum (翟雅阁博物馆)
Above the audience a cloud of around 100 elements waits calmly. When spectators enter the location, they live and light up. When people start walking the lights avove them will follow like a swarm of fire flies. This invites people to move and become part of the installation, creating a lively interaction between light and spectators. Social Sparkles has been presented at several renowned international light festivals like Light Marina Bay (Singapore), Toronto Light Festival(Canada), LUX Light Festival (New Zealand), and Amsterdam Light Festival (Netherlands).
Social Sparkle是来自荷兰工作室Studio Toer的互动灯光装置。 在观众头顶静静悬置的100盏灯像是安静的云层;当人们走进云层, 灯光根据人群的动向而点亮或变换。当人们走动时,灯光就像萤火虫群一样随着他们的身影亮起。装置通过这样的互动设计, 强调人与作品的关系,并邀请观众成为艺术作品的一部分。
DIGIBOO 灰色天幕
Time: November 21 - December 10
Venue: Tan Hua Lin (昙华林片区)
The work shows a construction of fluorescent ropes knotted together into a geometrical form. This form is lighted up with the use of led lights from the sides. The work can have mirror triangles or lighted circuit boards added depending on the location. With the unique aesthetic sense and geometrical skill, hundreds of meters of light emitting rope will be tied together to form a network. Combined with sounds it enables the audience to experience the environment in which the installation is being presented in a different way, be it an installation, a sculpture, and urban structure, or a pedstrian street.
作品由特殊的荧光绳材料搭建制作形成几何造型。搭建的绳索装置由led灯从侧面照亮。根据场景不同,装置内会增加三角镜面或亮灯电路。长达数百米的发光绳将被艺术家运用空间几何与艺术技巧搭建成奇妙的网络。伴随着环境音乐,观众漫步于艺术作品中,将得到极具感染力的艺术体验:它是一个装置、一个雕塑、一条街道、也是一个城市结构。