Yang 'Lei Feng' in Wuhan: Love without boundaries
Source: hubei.gov.cn 09/11/2017 09:09:47
Yang 'Lei Feng', a volunteer team consisting of the international students from Central China Normal University(CCNU), is very famous in Wuhan, central China's Hubei Province.
They have different skin colours, speak different languages and come from different countries, but they believe in the same faith "helping others to enjoy yourself" and practice the spirit of Lei Feng together.
They are usually spotted in the residential communities, schools, hospitals, subway stations and other public places around the city.
CCNU Yang 'Lei Feng' Volunteer Team established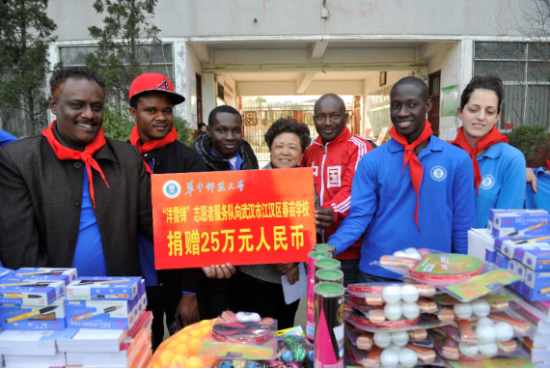 Adam (in red), on behalf of the CCNU Foreign Lei Feng Vonlunteer Team, donated the 250,000 yuan to Chunmiao Primary School.
In 2010, Nigerian student Adam Musa met the headmaster of Chunmiao ("sprout in spring" in Chinese) Primary School for the migrant workers' children in Wuhan, capital of Hubei Province, becoming a volunteer English teacher.
Adam is always very happy on the way from a normal international student to becoming a volunteer teacher, although the way is not that easy. On teaching days, he usually had five lessons a day, teaching students from different classes and grades. On teaching days, he got up very early at 6:30am and takes two hours' bus commuting between his university and the primary school.
Adam persevered in doing this for five years. At first, he was the only foreign teacher in Chunmiao; later, more and more international students in Central China Normal University were called to provide volunteer teaching.
Then, the Yang Lei Feng Volunteer Team came into being, including 43 international students as the first batch of members.
In 2013, Adam and other team members joined in one CCTV program, winning dream fund of 250,000 yuan. They donated the money to Chunmiao Primary School, installing new fans, painting the old walls, which was the first renovation since the school established 22 years ago.
Thus far, the Yang Lei Feng Volunteer Team stepped into the limelight.
Carry forward the spirit of Lei Feng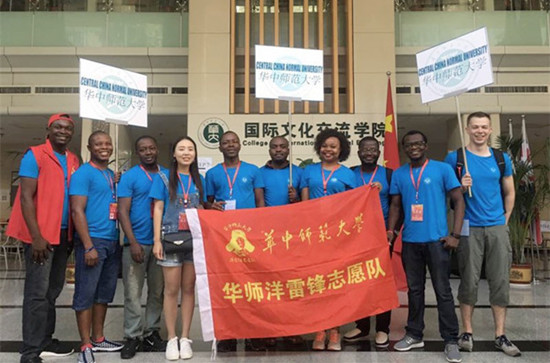 Patrick (in red) and the CCNU Yang Lei Feng Volunteer Team.
After Adam went back to his own country in 2015, Patrick from D.R. Congo took up the baton of the volunteer team, making efforts to absorb more like-minded companions and carry forward the spirit of Lei Feng.
The Children's Day of 2014 marked Patrick's first volunteer service which left him a deep impression. The service was provided to a school for the blind, in which, Patrick played a game - climbing up and down the stairs with eyes shaded - like a blind man.
"I can not move even a step. I need help from the blind," said Patrick,"So I put myself in the blind's position to understand their needs and believe that it is very meaningful to accompany them, give them encouragement and make them happy."
From then on, Patrick decided to continue the public services in his spare time.
After Patrick being the new leader, Yang Lei Feng Volunteer Team is increasingly larger and active. Till now, the team has more than 100 registered members who hail from over 50 countries around the world. They regularly start public programs and provide volunteer services as long as they can, including volunteering teaching, visiting the lonely seniors and orphans, interpreting and participating in the green activities, etc.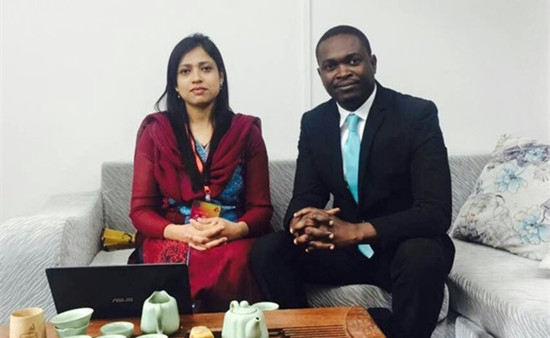 Mubina(L) and Patrick(R) in interview.
During this summer, the team once again attracted the local media's attention. One of the team members Mubina, who comes from Pakistan, became a social focus due to her volunteer teaching for the kids in a residential community in Wuhan.
In Pakistan, Mobina once worked as a volunteer in the hospital for three years and in Yang Lei Feng Volunteer Team, she is in charge of English language education programs. In her eyes, these free English classes allow Chinese children to learn more about foreign culture and discover the outside world. "I feel my efforts are very meaningful and helpful, " she said with smile.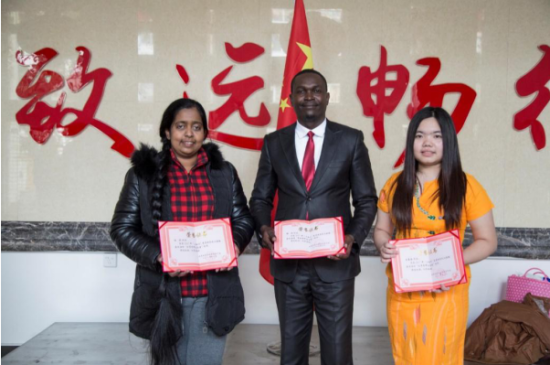 Patrick (M) and other two members of Yang Lei Feng Volunteer Team received awards.
Actually, the team members have been awarded for several times. Just in early 2017, the Central China Normal University was awarded the " Little Orange Lamp" for the volunteer work in Chunyun at the railway stations; Patrick was titled the "Outstanding Youth Volunteer" for a second straight year and other two members were named the "Excellent Youth Volunteer"...
All the foreign volunteers believe that they could achieve the sense of belonging, make more friends, obtain more information, have deeper knowledge of Chinese people and society via doing voluntary work, which are difficult to learn in class.
Wish the spirit of Lei Feng to spread over the world
With media attention, Yang Lei Feng's reputation is growing in Wuhan. "There are more international students know about us. We can receive application every month," said Patrick. In order to make this group known to more people, he even opened a public account on Wechat.
But Patrick's ambition never stops. Speaking of future development, Patrick expressed his desire to participate in more programs, such as the Wuhan Marathon and the Beijing 2022 Winter Games, so as to make Yang Lei Feng well known in China and even the world.
"Let more people and influence more people to engage in voluntary work, which is the reason that we always make what we do expose to the public, "said Patrick, adding that if the spirit of Lei Feng spreads over the world, there will be no wars, but a peaceful world.
(hubei.gov.cn by Ruan Xinqi)