Central China's first tram starts trial run in Wuhan
Source: hubei.gov.cn 07/31/2017 05:07:37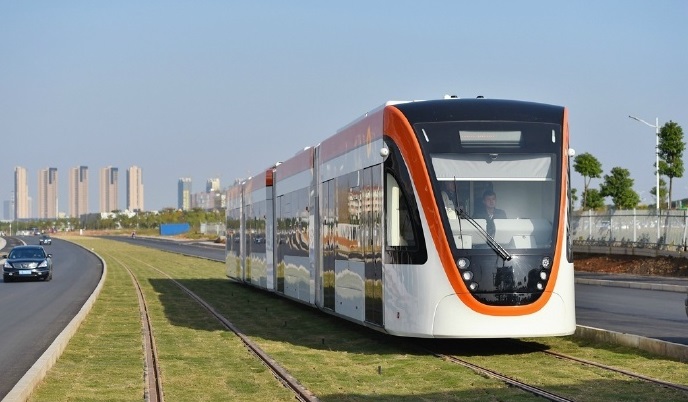 Central China's first tram started its trial run on Wuhan's first tram line T1 on July 28, 2017 in Wuhan, capital city of central China's Hubei Province. It is also the city's first tram line with 23 stops and the new modern trams will pass by Wuhan Sports Centre Stadium.
The tram line T1 covers 16.86 kilometers. It adopts one-ticket-one-person system with the whole journey costs 2 yuan. Passengers may pay the fare via Wuhan Tong, bank IC card and cash, and could even enjoy 10% off with the first two ways.
During the early trial operation, the trams start at 7:00 am and end at 18:00 (Deshenggang Station)/19:00 (Chelun Square Station) with a interval of 10 minutes.
At present, Wuhan has boasted various public transportation means, such as trams, subways, intercity railway, BRT, buses, trolleybuses, taxis, ferry boats, ro-ro ferries, sharing bicycles and sharing cars.
Tram Line T1 service
1. How to transfer to the subway?
Take Metro Line 3 at Chelun Square Station.
2. How to transfer to a bus?
At Chelun Square Station(车轮广场站): Bus Lines 385/ K02/271
At Shuifujie Station(水府街站): Bus Lines 335/ 351
At Chechengdadao Station(车城大道站): Bus Lines 351/ K02/ 347
At Binhushequ Station(滨湖社区站): Bus Lines 351/ K02/ 347/ 597/ 335/ 769
At Lianhulu Station (莲湖路站): Bus Lines 335/ 351/ 769
At Fenshuyilu Station (枫树一路站): Bus Line 351
At Fengshusanlu Staion (枫树三路站): Bus Line 351
At Dongfengdadao Station (东风大道站): Bus line 656
At Zhushanhubei Station (硃山湖北站): Bus Lines 271/ 261
At Zhushanhunan Station (硃山湖南站): Bus Lines 271/ 261
At Zhushan Station (硃山站): Bus Lines 271/ 261
At Fenghuangyuan Station (凤凰苑站): Bus Line 271
At Huanglingzhengjie Station (黄陵正街站): Bus Lines 271/ 261/ 370
(hubei.gov.cn by Ruan Xinqi)