Hubei intangible heritages wow audience in Berlin
Source: hubei.gov.cn 07/10/2017 05:07:03
Performance of Wudang wushu attracted German children. (photo by Xing Juncheng & Li Xieping)
During July 5 to 6 (local time), exhibition and performance themed with "stories on the intangible heritages along Yangtze River" toured to Kabarett Theater DISTEL and several elementary schools in Berlin, Germany.
The activity, which was co-hosted by The State Council Information Office of the People's Republic of China and the Chinese Embassy in Germany, and undertaken by Hubei Provincial Party Committee Propaganda Department and Hubei Provincial Department of Culture, allowed audience in Berlin to take a close look at the living cultural genes of Hubei.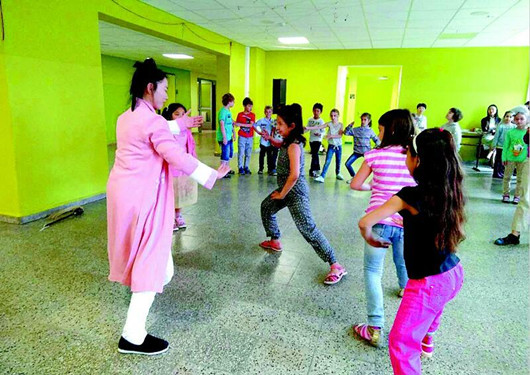 The exhibition consisted of 10 stories about Taoism in Wudang Mountain, paper cutting, ancient tea route, etc. Each of them were well received and attracted wide attention.
Located at the middle reaches of Yangtze River, Hubei is the birth place of Jingchu Culture, boasting 127 state-level intangible heritages, and 546 provincial items.
Related: "Chime Bell Dance" performed in Berlin, Germany
(hubei.gov.cn by Mao Huifang)