The 17th COCPDC opens in Wuhan
Source: hubei.gov.cn 07/08/2017 10:07:27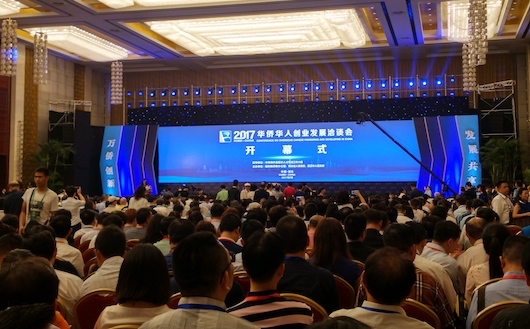 The opening ceremony of the 17th COCPDC is held in Wuhan on July 8, 2017.
30 major projects is signed at the opening ceremony.
The 17th Conference on Overseas Chinese Pioneering and Developing in China (COCPDC) was opened in Wuhan, capital of Hubei Province, on July 8, 2017.
With the theme "mass innovation among overseas Chinese and shared development", this conference brought together more than 4,000 domestic and foreign representatives, including 1,600 from 70 countries and regions.
30 major projects were signed at the opening ceremony, covering areas such as bio-medicine, modern manufacturing, new energy, new materials, cultural tourism and general aviation.
According to statistics, 134 projects will be signed during the 17th COCPDC, with a total value of 63.2559 billion yuan, of which, 16.276 billion is contributed by foreign investment. And 91 talents will be introduced into Hubei while 25 high-tech companies will be set up.
Launched in 2001, COCPDC has become an important platform for the promotion of international cooperation in talent, technology and investment. Scheduled on July 7-9 this year, a series of events will be organized, including the activities in Hubei such as the World Chinese Media Forum, the Intelligent Manufacturing Forum, the Foreign Investment Forum, as well as six overseas parallel sessions in Canada, Thailand, New Zealand, Singapore, etc.
Related: Specific sessions of COCPDC 2016 held to promote overseas projects
(hubei.gov.cn by Ruan Xinqi)