An American doctor dedicating to the promotion of general medicine in China
Source: hubei.gov.cn 06/21/2017 09:06:41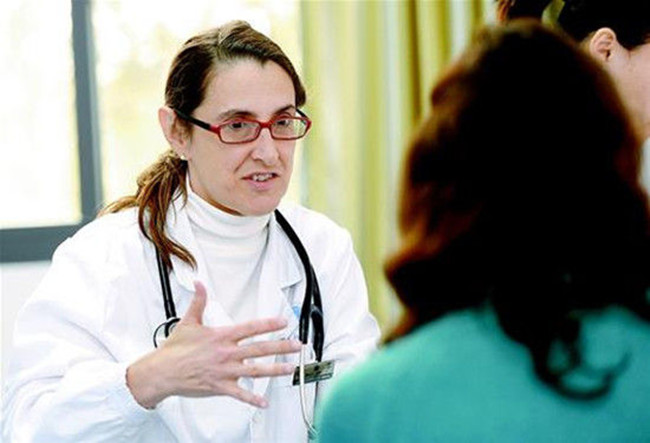 In 2012, the first international GP practice in central China was officially opened at Wuhan Union Hospital west district. Cheryl deMena was employed as the chef doctor to serve foreigners in Wuhan. In 2015-2016, the clinic has received 787 patients, hailing from 64 countries and regions.
Dedicate to the promotion of general medicine
Dr. deMena left New Jersey to Wuhan in 2000, before which, She had been a general doctor for six years in the United States. During the first 12 years in Wuhan, Dr. deMena seeked multiple ways to practice medicine, successively having done volunteer works at Hubei Provincial Medical Care Center for Women and Children, Zhongnan Hospital, and other local hospitals. Before 2012, she obtained the Chinese medicine license through her own efforts.
"I really love being a family doctor, which is a special and difficult role. Only know all about the patients' physical condition, you can help them understand what they need, help them sort through without over test as well as help them understand why the disease is happening and how to prevent it in the future. I think it's a very warning field. " she said.
However, Dr. deMena found the field of general medicine was almost empty in Wuhan and even in China after settling down. With the pursuit of promoting general medicine, she established one of few national bases for training general practitioners at that time in China under the help of Wuhan Union Hospital. Since then, she took Wuhan as the center to travel around China, giving lectures and inviting foreign experts to carry out exchanges.
"The services in the hospitals of Wuhan are bettering and bettering for foreigners now: more and more medical staff can speak English and the system of reservation is adopted, " Dr. DeMena praised the development of international medical environment in Wuhan.
She also thought more efforts should continue to be made for the promotion of general medicine and training general doctors so as to help the patients at the beginning.
In 2013, Dr. deMena was granted the Yellow Crane Friendship Award for her contribution to Wuhan by local government; In 2014, she was invited to attend the awarding ceremony of China's Friendship Award at the Great Hall of the People in Beijing.
"what I did is very small, " she said of her 17-year endeavor in China, "In the future, I will continue my work on general medicine."
Serve each patient with professional attitude
During her five-year work in the clinic, Dr. deMena has received more than 2,000 foreign patients and dealt with over 30 serious cases with Chinese doctors. In her work computer, thousands of contact numbers are listed and sorted, whose owners will always call her when they feel not well.
Before each consultation, the visitor should make an appointment in advance, and Dr. deMena will give diagnostic messages only after detailed inquiry and checkup, which usually takes more than half an hour.
Each patient has his/her own health record and it will be updated after each visit. When they go back to homeland, the record will be directly delivered to their own family doctor, so as to realize the seamless joint of medical history.
Dr. deMena provides medical service on Monday mornings and Wednesday afternoons, 5 to 10 people in half a day. Apart from seeing patients, she has to continue her medical education online and attend various conferences to ensure herself knowledgeable and professional enough.
Witness the rapid development of Wuhan
"Wuhan is a very large city, " Dr. deMena said so as her first impression of this city. She was amazed by the long drive from the airport to her living place when she first came to Wuhan.
"Wuhan is fast-changing," she described the city after living here for 17 years. In her long-time stay, Dr. deMena witnessed the rapid development of urban construction, a process out of nothing.
She spoke highly of the city's efforts in constructing subway lines, inner-city roads, viaducts, bridges, greenways, and greening, sighing that this city is more and more convenient and beautiful.
"My life is much more easier and comfortable in Wuhan, " she said, "I love this city and enjoy my stay here."
(hubei.gov.cn by Ruan Xinqi)