Practice of Hubei in supply-side structural reform attracts global praise
Source: hubei.gov.cn 05/26/2017 03:05:57
On May 25, a promotion conference on "Stories of CPC: Supply-Side Structural Reform-- Practice of CPC Hubei Provincial Committee" was held in Beijing, capital of China. Hubei officials, focusing on supply-side structural reform, presented the implementation of President Xi's new concept, ideas and strategies in Hubei to all the foreign representatives of political parties and diplomatic envoys.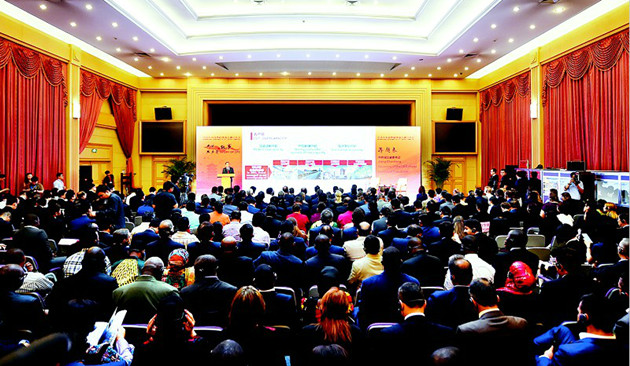 The year 2016 marked the beginning of China's supply-side structural reform. Hubei has earnestly followed the decisions of the CPC Central Committee and has positioned supply-side structural reform at the center of its economic work by taking a variety of targeted and comprehensive measures.
Strengthen the following areas of weakness:
- Infrastructure: The total expressway mileage of Hubei has exceeded 6,000 km.
- Opening-up: Smooth progress has been made in promoting the development of the China (Hubei) Pilot Free Trade Zone and further integration into the Belt and Road Initiative.
- Agriculture: The output value of the agricultural product processing industry has exceeded RMB 1 trillion.
- People's well-being: Targeted measures have been taken to alleviate poverty and ensure that no one is left behind. A total of 1.47 million people have been lifted out of poverty in one year.

Leverage the multiplying effects of scientific and technological innovation:
- The Yangtze Economic Belt Industrial Fund has been established and has invested RMB 40 billion of fiscal funds, leveraging over RMB 1 trillion of social funds in turn to support strategic emerging industries.
- Hubei has introduced a 16-point opinion on accelerating the development of the new economy, aiming at motivating innovation and entrepreneurship in a more tolerant environment with more preferential talent policies.
- A total of RMB 3.5 billion has been earmarked for technological transformation projects with an investment fund of RMB 1 trillion to build a smarter and more IT-based industrial sector in Hubei.

Reduce outdated and excessive production capacity:
- In 2016, Hubei cut 8.14 million metric tons of outdated production capacity in iron and steel, exceeding the obligatory targets two years ahead of schedule.
- A total of 158 coal mines were shut down, reducing overcapacity in the coal industry by over 10 million metric tons.
Excessive production capacity in cement, sheet glass and other traditional industries has been cut down.

Cut red tape and improving the business environment:
- In streamlining administration and delegating powers, Hubei has become one of the provinces with the lowest number of items reviewed by the provincial government.
- A full range of measures have been taken to lower the costs of enterprises. In 2016, a total of RMB 80 billion has been reduced from the financing, electricity, labor, logistics and other costs of enterprises.

Optimized the economic structure
- Optimized the economic structure,including the structures of industry, enterprise and products. In 2016, the rate of modern service industr in output value increased to 44.7 percent, gradually developed a service - oriented industrial structure.
- Stimulated the new energy for development. The emerging industries as fibre-optical communication, biomedicine, high-end equipment manufacturing, Beidou navigation all ranked the forefront of the country; a batch of key projects, including the National Memory Base, National Commercial Space Base and new type display panels, etc.
Pushed forward the green development
In 2016, Hubei created a batch of national forest cites, garden cities and model cities for environmental protection. The province's forest coverage rate reached 40 percent, average PM2.5 fell by 16.9 percent, energy consumption for each unit of GDP dropped by 4.5 percent and the state-level pilot projects on circular economy amounted to 20.

Improved the living standards of urban and rural masses
In 2016, the household income in Hubei continued to rise, gaining per capita disposable income of 21,787 yuan, up 8.8 percent year on year.

Hubei maintained a medium-high growth in economy through practicing supply-side structural reform. These fruits will make contribution to global economic development and we could learn from the experiences.
-- Batbayar Tserendorj, Vice Minister of Environment, Green Development and Tourism of Mongolia

Hubei is a regional traffic center. We expect Hubei enterprises to come to Armenia and I schedule to visit Wuhan, a magical city in my heart.
--Suren Baghdasaryan, Secretary of Embassy of the Republic of Armenia
China is great. And now, I am eager to visit Hubei after expose to its stories.
-- OMAR Yussur, representative of The United Republic of Tanzania
China is one of world's largest economies. It kept fast growth in industry, high-end technologies and biomedicine in recent years. I have confidence in China's future and would be very willing to witness the rise of the country.
-- Bosd, a parliamentarian of Republic of Moldova

I worked in the Consulate General of France in Wuhan between 1998 and 2001, which left unforgettable memories in my life. And from then, I introduced myself as a "half Hubei lao (means: Hubei native)".
In September this year, I have chance to work in Hubei again, for which, I am really looking forward to. Wuhan is a fast-growing city in terms of economy, technology, education and culture over years. The practice of Hubei in supply-side structural reform is impressive and inspired. France has close relationship with Hubei and Wuhan, admiring each other and sharing cooperation in the fields of culture, education, high-technology, and environment protection. Both China and France are staunch rooters for Paris Agreement. I expect to drive bilateral cooperation via the project of Sino-French Wuhan Ecological Demonstration City, so as to make a contribution to boosting the supply-side structural reform as well as to play a more active role in pushing forward the efforts made by China and France in sustainable development worldwide.
-- M. Olivier Guyonvarch, Minister Counsellor of French Embassy in Beijing
(hubei.gov.cn by Ruan Xinqi)