Fast-changing Wuhan, slow-changing Dingwu
Source: hubei.gov.cn 05/23/2017 10:05:41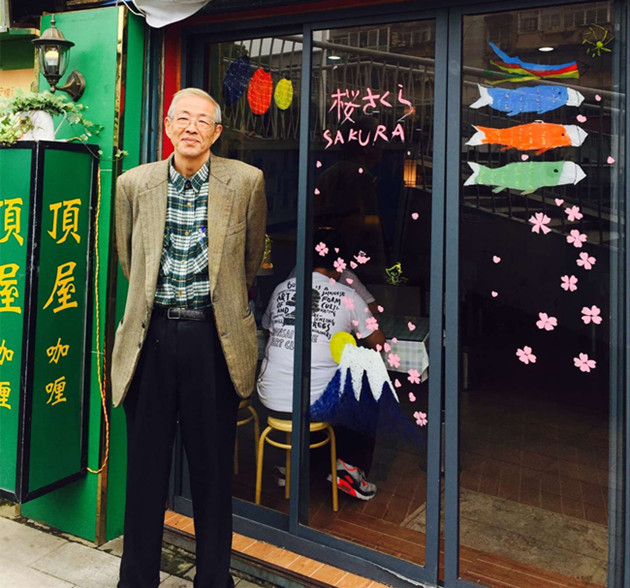 "Wuhan has changed a lot in past several years - high buildings can be seen every where, and the transportation is more and more convenient, " said Shimada Koji, a Japanese who lived in Wuhan for seven years.
Shimada Koji, 70, is now running Dingwu (Chinese: 顶屋), a small restaurant mainly selling curry in Wuhan. Born in an ordinary family of Fukuoka, Japan, he didn't follow the normal path of life to work, marry and have children, but spent his time traveling around the world since the age of 35. The countries like America, Italy, France, Netherlands, Swiss, Denmark, Sweden...all had his footprints.
At his 60s, the old man came to Wuhan and settled down, opening a small restaurant by the Central China Normal University. This hash house once became the hot gathering place among the young people who love Japanese and curries in Wuhan and even surrounding cities .
"Japan is known for sushi, ramen and curry, the former two of which need professional skills to make while curry is a home-cooked food, " said the old man, "I'm willing to bring good-tasting and affordable curries to every one."
The curries selling in Dingwu are bought from Japan, and other accompaniments are carefully selected from local supermarkets. The aging man taught all his employees to cook curries, without any reservations. However, only few people can meet his requirements in precise mixture and taste. Till now, he goes to Dingwu to check the food every day to ensure the mouthfeel unchanged from the start.
In addition to curries, Dingwu also called together many people who have interest in Japanese: college students, white-collars, job hunters, those who planned to go abroad.... The old grandpa prepared teaching materials for the attendees and acted as Japanese teacher himself. He even gave award to those who persisted in learning and made progress. "I only want to provide an exchange platform between Japanese and Chinese, from food to culture," he said.
One year ago, the old shop of Dingwu was pulled down, then it moved to the side of Wuhan University and opened a new branch store at Jiedaokou, where the Luoshi Road and Wuluo Road meets in Wuhan. Though did not advertise, many old and new diners turned up and attracted by its fame.
Wuhan is fast-changing, but time is slow-moving in Dingwu. Similar decorations, unchaged taste and same shopkeeper are always waiting for those who ever stopped and those who want to have a stay.
何处是归程,长亭更短亭
----访顶屋手记
接到外采任务的时候,我首先想到的是四年前遇见的日本老爷爷和他的咖喱饭。讲真,其实爷爷和小饭馆儿的具体名字已经在我的记忆中模糊了,唯一清楚回忆得起来的是暖暖的灯光下浓郁的咖喱以及在绿色格子门前一边发传单一边说"こんにちは"的佝偻身影。
提前联系到了顶屋咖喱的店长——丹子,将采访时间定在了午后一点。因为心里的那点念想,我提前去店里点了一份咖喱饭,多要了一份布丁和蛋卷。依旧是记忆中的味道,咖喱细腻绵长,布丁奶香浓郁,蛋卷嫩滑爽口。
一时感慨万千。四年前,我初入社会懵懵懂懂;四年后,我已经为人妻为人母。生活在我身上留下了深深的印记,而顶屋还是最初的样子,暖暖的灯光一直在那亮着,灯下是一份冒着热气的咖喱饭,一如家的模样。
"岛爷平时就爱看书抽烟,晚上总是看书看的很晚才睡,所以跟你约的有点晚了,"丹子带着抱歉的微笑对我说,一边照顾着顾客的需求,一边收拾着地上桌子上细小的垃圾。
虽然姓岛田,但是大家还是亲昵的称呼他为岛爷。
"岛爷一般来店里会比较晚,咖喱都是他自己熬制的,特别好吃,其他的小食也很好吃,"同桌的一位年轻女孩向我介绍,熟悉的就像在说自己家的爷爷,自己家的店。
听到久违的打招呼声,我一回头就看见岛爷走进了小店。进店的第一件事情永远都是先端起茶壶给店里的每位食客注满水杯。
知道我的来访,他邀请我去后面的小院子,不打扰店里的客人。院子的大树底下,岛爷一边眯着眼睛抽烟,一边跟我闲聊。
"日本有三种食物出名:拉面,寿司和咖喱,前两者专业性太强,而咖喱是家家都可以做的家常菜",岛爷说起自己亲手制的咖喱,态度里带着亲切和严谨.
丹子介绍,顶屋的咖喱是岛爷从日本带回来的,而配菜都是从一些靠谱的超市或是集市精心挑选,按照精确的比例,合着咖喱一起慢慢熬制直到所有的食材全部化到一起。
"其实岛爷把怎么做咖喱都教给了我们,但是有的时候因为洋葱或是土豆口感不一样而造成咖喱味道的细微差别只有他能尝出来,"丹子说。
数年如一餐的味道就是在这样的细致里被保存了下来。
岛爷的顶屋咖喱店从最初的一家变成了现在的两家。但他还是住在由一间车库改造成的单人房里,我很好奇他为什么不稍微改善一下自己的生活环境。
"对我而言,住的地方能让我看书,又风吹不着雨淋不到就够了,"岛爷眯着眼,享受着手里的烟,"店里其实不赚钱,我希望能做出让大家都吃的起的美味咖喱。"
其实岛爷的咖喱店在武汉算是小有名气了,之前的老店随着华师文化街的拆迁换成了现在的两家店。人流有些分散,但是仍不时有老客造访,也有新客慕名而来。来来往往,变的是面孔,不变的是那一份情怀,那一口带着家常味道的咖喱。
何处是归程?长亭更短亭。来顶屋吧,这里有一盏一直为你点亮的灯。
(hubei.gov.cn by Ruan Xinqi)