2017 Badminton Asia Championships decides quarterfinalists
Source: hubei.gov.cn 04/28/2017 10:04:42
Zhang Nan (L) and Li Yinhui(R) receive interview after winning the game. (photo by Li Sheng/hubei.gov.cn)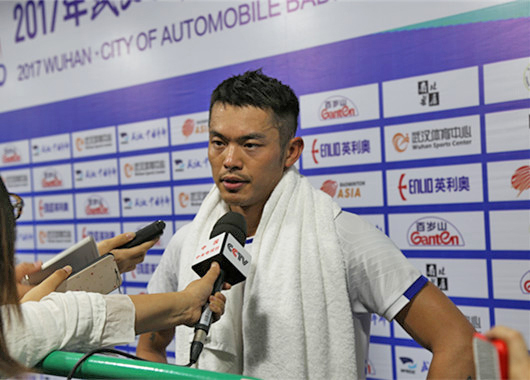 Lin Dan meets the press after game. (photo by Li Sheng/ hubei.gov.cn)
2017 Badminton Asia Championships entered the second round match on April 27, in Wuhan, capital city of central China's Hubei Province.
China's Lin Dan, Chen Long and Malaysia's Lee Chong Wei qualified for the men's singles quarterfinals.
Lee Chong Wei beat his Japanese rival Kenta Nishimoto with 2:0, though he had a hard time during the first set. Chen Long and Lin Dan also ended their games with 2:0 in 50 minutes.
In terms of women's singles, Chinese He Bingjiao and Chen Yufei advaced after hard-fought battles while Sun Yu lost her seat.
In addition, the pairs of men's doubles, women's doubles and mixed doubles all made into the next round.
From 16:00 today, eight individual events will be staged one by one. Competitions for semi-finals between Lin Dan and Chinese Taipei's Zhou Tiancheng, Lee Chong Wei and Chinese Taipei's Xu Renhao will be carried out.
Related:
The 2017 Badminton Asia Championships will take place at Wuhan Sports Center from April 25 to 30. More than 300 players from over 20 Asian countries will gather in Wuhan to compete for the championship titles in men's singles, women's singles, men's doubles, women's doubles, and mixed doubles. >>more
(hubei.gov.cn by Ruan Xinqi)
SEARCH the SITE
Visiting Hubei