Hubei kicks off the 35th Bird Week
Source: hubei.gov.cn 03/31/2017 04:03:54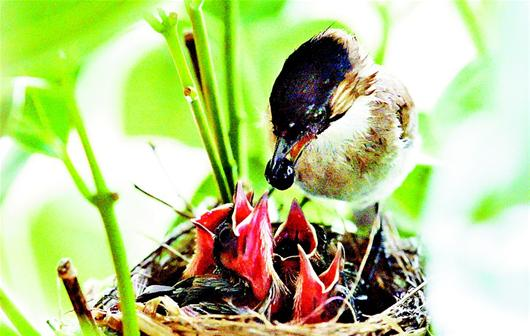 A China Bulbul and four newly-hatched birds were spotted in in Zigui of Yichang, central China's Hubei Province, August 3, 2016.
On March 30, the 35th Bird Week, kicked off in Jingzhou, Hubei with the theme of protecting migratory birds, ecological environment and nature, during which, the newly revised Wildlife Protection Act will be promoted.
At present, Hubei owns 456 species of birds, including 12 under the first-class national protection, which accounts for 33.3 percent of the whole in China.
"With the improvement of the ecological environment and the organization of protection activities, the number of migratory birds in Hubei is constantly increasing," said Cai Jingfeng, deputy director of the Forestry Department of Hubei Province.
He added that, in recent years, rare migratory birds such as Mergus squamatus and Aythya baeri have been spotted in the province, while some species, like Ciconia boyciana, have chosen to inhabit and no longer leave, which all show the remarkable success of Hubei in protecting wild birds.
Related:
Nearly 800 fierce birds migrate through Wuhan
On November 1, nearly 800 fierce birds were spotted at Yujia Mountain and the Hankou Bund of Wuhan, capital city of central China's Hubei Province, marking the largest number of migratory fierce birds since 2011, said Wuhan Municipal Bureau of Landscape and Forestry.
>>more
(hubei.gov.cn by Ruan Xinqi)
SEARCH the SITE
Visiting Hubei