Bernard Cazeneuve cuts ribbon for the P4 laboratory in Wuhan
Source: hubei.gov.cn 02/24/2017 03:02:09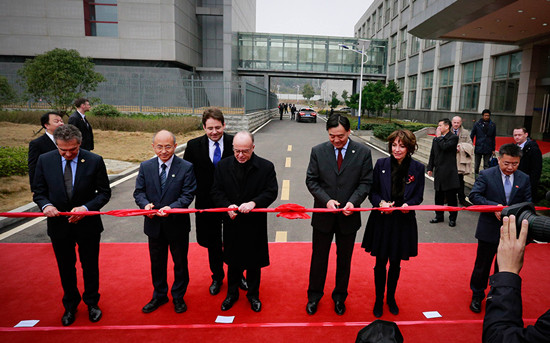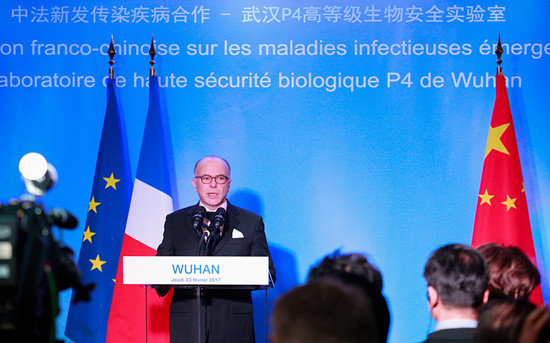 French Prime Minister Bernard Cazeneuve on his tour to the P4 laboratory in Wuhan, February 23, 2017.
On the morning of February 23, 2017, Bernard Cazeneuve, Prime Minister of France, paid a visit to Wuhan P4 Biological Security Laboratory during his last leg to China.
As a symbol of Sino-French technological cooperation in the field of public health, the P4 laboratory in Wuhan has attracted a lot of attention from the French government. Cazeneuve and his delegation attended the ribbon-cutting ceremony for the laboratory and then inspected the laboratory.
Cazeneuve said that the P4 laboratory is a landmark project for the cooperation between France and China. It will play a role as the bridge head for both the two countries in coping with emerging infectious diseases.
In the near future, more extensive scientific collaboration will be developed in the fight against emerging infectious diseases and biological safety, he hoped, adding that France will annually allocated one million euros to support the two fields in the following five years.
The P4 laboratory, completed in January 2015 with efforts from Institut Mérieux, is part of the implementation of the Intergovernmental Agreement on Emerging Infectious Diseases, signed in 2014 by China and France.
Related:
French Prime Minister promotes Wuhan Sino-French eco-city to the world
On February 23, French Prime Minister Bernard Cazeneuve visited the Sino-French Wuhan Ecological Demonstration City, a national cooperation project between China and France situated in Caidian District of Wuhan, capital city of central China's Hubei Province.>>more
(hubei.gov.cn by Ruan Xinqi)