French Prime Minister promotes Wuhan Sino-French eco-city to the world
Source: hubei.gov.cn 02/24/2017 11:02:42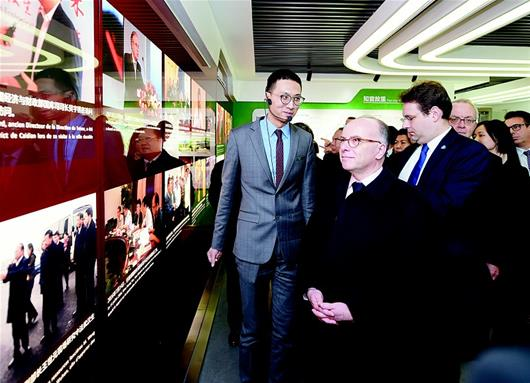 French Prime Minister Bernard Cazeneuve (front) visits the Sino-French Wuhan Ecologicla Demonstration city on February 23, 2017. (photo by Zhang Peng/ Hubei Daily)
On February 23, French Prime Minister Bernard Cazeneuve visited the Sino-French Wuhan Ecological Demonstration City, a national cooperation project between China and France situated in Caidian District of Wuhan, capital city of central China's Hubei Province.
On March 26 of 2014, under the witness of Chinese President Xi Jinping and French President Francois Hollande, the governments of the two countries signed an agreement in Paris on constructing a sustainable city in Wuhan.
Wuhan is a city full of energy and a city where French companies play a particularly important role in, said Cazeneuve at a promotional conference for this eco-city on his tour. He added that France and Hubei share a long history of cooperation in such fields as automobile, medical care and transport, and France hopes to expand this cooperation to urban planning, housing construction, clean energy, wastewater treatment and cultural heritage protection, so as to adapt to the challenges brought by climate change and to build the city of tomorrow together.
"Ici, dans l'amitié franco-chinoise se construit la ville durable", Bernard Cazeneuve inscribed after visiting an exhibition on the eco-city to deliver his good wishes for the friendship between China and France.
Related:
French PM arrives in Wuhan for friendly visit
French Prime Minister Bernard Cazeneuve arrived in Wuhan, capital city of central China's Hubei Province to start a friendly visit on the evening of February 22, 2017. >>more
(hubei.gov.cn by Ruan Xinqi)